Singer, actor, radio host, writer and tourist Henry Rollins tells Lydia Jenkin about motivating factors in his divergent career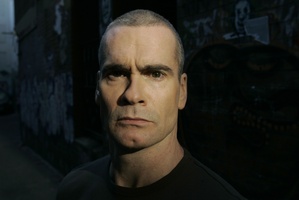 Having made a name for himself as rock's angriest singer, notably in Black Flag during the 80s and 90s, 51-year-old Henry Rollins has become an alternative media renaissance man.
Working on everything from TV shows like Sons of Anarchy to National Geographic and on films such as Green Lantern, being a long-time radio host on KCRW, and writing for LA Weekly and Vanity Fair along with 11 books of his own, he somehow finds time to blog, and undertake speaking tours - the latest of which is headed here. Here's Rollins on various aspects of his busy life ...
On why he likes to travel alone in places which Westerners often avoid ... When I'm really on my own, like when I'm walking down the streets of Islamabad in Pakistan, or Beirut, I do fine. I've never had to run for my life. I'm polite, I'm curious, and I think people get some weird amusement out of this strange man walking alone. Because it says a lot when you walk by yourself. You're saying I'm not here with enforcement, I'm not a tough guy. I'm trusting you to be on your best behaviour, and I think people respond to that. Of course you can't guarantee that everyone is going to play nice, but it kind of lays down an interesting gauntlet to these people, when you just show up, and go basically I'm here because I'm curious.
When people ask me, "why are you here?" I always make a joke and say "I'm here to meet you", and that always breaks the ice and makes them laugh.
On balancing pity and respect ... You see people who are incredibly poor by Western standards, and they don't want your pity, they don't want to hear you go "aww, are you okay?", they're fine. They're looking at you sweating through your clothes, slapping at bugs, wondering if you're okay. So I've found that human dignity is the one common thing all over the world ... And often, as a Western person travelling in these places, I am the voyeur, I can walk through your slum for a couple of days like I did in Bangladesh, see what I can see, and then I go back to a mosquito-free room that's air-conditioned, and I get on a plane five days later and I'm out. I don't have to deal with what is their life. And it would be very easy for one to be judgmental and disingenuous and patronising but I try to see these places and encounter these people without putting on my Western filter, because the first thing you think when you walk into a slum is "this sucks, and I could never hack it", so how do you really separate yourself from that and connect with these people?
On channelling his anger into productive activities as he gets older ... The more I travel, the more I see things that are glaringly wrong, real injustice. And I'm not Joan of Arc or Mother Teresa, and I'm not Gandhi, so I'm not going to walk into a bullet for any of this, but I'm not going to turn my back on it either. So I'm doing things like the fundraiser for Drop in the Bucket, or working with various other NGOs, trying to raise money for them and just doing what I can. I'm happy to contribute and try to help out, and that's a manifestation of that anger. So my anger doesn't lead me to punch a hole in a wall, it leads me to doing a fundraiser, and that might be different to how I would've handled the information at age 20. And if that can be seen as mellowing, well okay.
On his work ethic ... If it's work, I'll take it. I do a bit of voice work in America, for Infiniti cars, Verizon, film work, cartoon work, documentary work, a lot. It's all good work, and I'll gladly take it. I'm not really an artist. To be honest perhaps I'm an opportunist in that I take advantage of any opportunities. I come from the minimum wage working world and I have no illusions as to what I am, I'm a burger flipper who got a break. And so everything is interesting to me, and I say yes to all of it. You get a free pen or a free sandwich sometimes, it's great, maybe you get to keep the coffee mug. There's really no downside to it, and it's all fairly fascinating, and I know full well what I can go back to any time. I can go back to putting french fries in your bag.
I reckon there's all kinds of time to slow down, and for people like me it will come to an end, in that they'll like you for a while and then they'll move on to something else. It will be done with me before I am done with it, and that's what I'm counting on, and if I'm wrong, fantastic. If I'm right, well at least I'm prepared.
LOWDOWN
Who: Henry Rollins, entertaining motormouth
Where and when: Playing Clarence St Theatre Hamilton, Wednesday April 11; Dux Live, Christchurch, Thursday April 12; Opera House Wellington, Friday April 13; SkyCity Theatre, Auckland, Saturday April 14
-TimeOut