Peter Jackson's forthcoming movie about the West Memphis Three isn't the first doco about the case but the fourth, coming after the Paradise Lost trilogy by film-maker Joe Berlinger who has followed the case since the beginning. He talks to Peter Calder.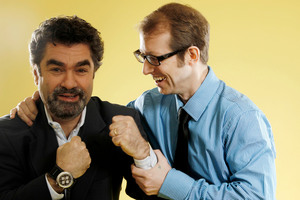 Film-maker Joe Berlinger was 31 when he first met Jason Baldwin, Jessie Misskelley jnr and Damien Echols. He's 50 now and, in the the intervening years, his life has been entwined more tightly with theirs than he could ever have imagined.
Baldwin, Misskelley and Echols were 16, 17 and 18 respectively when they were charged with the brutal murders of three 8-year-old boys in the woods in Robin Hood Hills, a suburb of West Memphis, Arkansas. The story of the trio, who would become known as the West Memphis Three had everything: the kind of white poor popularly known as "trailer trash", they loved dressing in black and listening to the heavy metal band Metallica in apparently spiteful defiance of the mores in the conservative Christian community they lived in. And the murders had some sensationally grisly elements to them.
"We arrived wanting to tell a story about how three kids could do such a rotten thing," says Berlinger, on the phone from Sydney where he's been teaching a master class at the new Australian Film, Television and Radio School.
"We assumed they were guilty, based on the press reports. But we soon began to feel like, actually, the wrong guys had been arrested.
"As we dug into the case, we became convinced of their innocence but we assumed reason would prevail before the trials and it would work itself out. Instead we witnessed this jaw-dropping modern-day witch hunt in which rumour and innuendo and ghost stories made up for lack of physical evidence."
The result of Berlinger's astonishment (the other half of the "we" is his long-time collaborator Bruce Sinofksy) was a series of three films for HBO over those 19 years, which were made under the resonant collective title Paradise Lost. The third film in the trilogy, Purgatory, which received an Oscar nomination for best documentary and plays in the World Cinema Showcase opening in Auckland next week and on Sky channel SoHo next month, documents the events leading up to their release in August last year after 17 years in prison.
Release was a bitter sort of victory - the trio had to make what is known as an Alford plea, which means admitting guilt, thus waiving their right to compensation - but it was a victory. Yet it was so long coming: they were freed because of DNA evidence, but as the films make clear, the police conduct of the case was so shoddy that it would be laughable if it were not so tragic.
Berlinger doesn't buy the idea that he is by nature a crusader against injustice. He and Sinofsky shot to prominence with Brother's Keeper in 1993, a nuanced and humane piece of quasi-Appalachian gothic about the death of a farmer, one of a quartet of distinctly odd recluses. Berlinger's 2000 sequel to The Blair Witch Project was slaughtered by critics and won the anti-Oscar Razzie for worst sequel of the year. By contrast, Some Kind of Monster, the behind the scenes look at Metallica was highly praised.
But Berlinger was also behind Crude, in the 2010 Showcase, a powerful, quietly angry documentary about the attempt of a group of indigenous Ecuadoreans to sue a major oil giant for environmental despoliation.
"I felt a moral duty to tell that story," he says, "but that's not always the case. Sometimes advocacy is part of the package and sometimes it's not."
He wrestles with defining the boundaries between storytelling and advocacy "not just in this project but all the time".
"Sometimes they have mutually exclusive needs. When you are making a film that has a dramatic structure, for example, selectively withholding information until the right moment can be dramatically satisfying but may not journalistically acceptable.
"On the other hand, if you need to have balance, that can encroach upon the mission of advocacy. I don't have a magic solution but I don't think journalism and advocacy are mutually exclusive. The best way to be an advocate for a subject is to honour the journalism - show both sides and let the truth rise to the top.
"I've always been interested in people and injustice. One of the things that our films do, I think, is put people on screen who don't normally get a chance to be seen because they are in a minority or downcast. I love exploding stereotypes, such as the stereotype that teen heavy-metal fans must be killers."
The scale of the injustice visited on the West Memphis Three boggles the mind if only for the length of time involved. At one point in the third film, Damien Echols reports with a sort of wistful bemusement that his hairline is receding and that he's been told he has arthritis. He's spent almost half his life on Death Row. Astonishingly he manages to say that imprisonment "has helped me to see more of what I do have and to be thankful for that. You know, I have, in a lot of ways, I have a truly incredible life." It's a humbling moment for the viewer.
"I am deeply impressed by how they lack bitterness," says Berlinger. "They went into prison when they were teenagers and they're getting out with the best years of their lives robbed from them."
He says the films underlined the disturbing human capacity for "burying our heads [in the sand] to protect our own interest".
"We saw it Nazi Germany, in Rwanda, in the former Yugoslavia. The same thing happens on an individual level. There are enough people in the justice system who want to protect their own interests. There were a lot of people who made significant career advancements off this case."
The convictions and sentences - Echols to death, the other two to life without parole - made Berlinger vow that he would keep making films about the case until they were free. It was a promise that he had to keep for a long time, but he never felt like backing out of it.
"I always felt I had a keen moral obligation to continue to shine a light on this case in a way that I know how to do. But I never knew it would take so long. I thought the first film was going to blow the doors off of this thing, that it would do for the West Memphis Three what The Thin Blue Line did for Randall Dale Adams. I felt guilty accepting the awards that the film got because those guys were still rotting in prison. Now that they are out of prison I feel that I can finally walk away from this."
Does he feel as though the films were instrumental in the outcome?
"They were definitely a catalyst that inspired change. They attracted support from around the world, from people who wanted to do whatever they could to help. Famous people like Johnny Depp and Eddie Vedder or regular people rolling pennies to contribute $5 to the defence fund for people they never knew in real life. They're the people who made it happen."
He hasn't yet seen the Peter Jackson-produced West of Memphis, which is expected in our mid-year festivals here but says there's "plenty of room for more than one perspective. Peter Jackson helped fund quite a lot of the investigation and was very generous in terms of assisting the defence."
Others are having a go. Atom Egoyan has a feature, The Devil's Knot, in pre-production and Depp has optioned Echols' memoirs. Another book is imminent.
"There's a whole West Memphis machine in place," says Berlinger, "which suggests to me that it's time for me to tip my hat and move on."
In the frame
Joe Berlinger's documentary Under African Skies is a notable addition to a strong documentary strand in the Showcase. The film follows the return of Paul Simon to South Africa on the 25th anniversary of the release of his hit album Graceland. He meets his old collaborators and confronts those who accused him of breaking a cultural boycott in place at the time and profiting from others' artistry. Wisely, the film doesn't take a position, rather observing the intransigence of people who profess tolerance and love and practice self-interest, but the film abounds in magic musical moments.
This Is Not a Film is an improbably thrilling portrait of the Iranian film-maker Jafar Panahi who is under house arrest in Tehran, as his appeal against a six-year prison sentence and a 20-year film-making ban. The end credits call the film "an effort by Jafar Panahi", but it's actually a dazzling glimpse of a creative spark undimmed by crude censorship. On a much smaller scale The Triangle Wars is a homely little picture of a struggle against authority much closer to home, which has elements of that great inside-council doco of the 90s Rats in the Ranks.
The festival also offers the first look at Ralph Fiennes' Coriolanus - he directs and stars in the first big-screen version of the late tragedy. Set in a present-day theatre of war reminiscent of the former Yugoslavia, it's a revelation, brutal and brilliant.
Lowdown
Who: Joe Berlinger, Oscar-nominated documentary maker
What: The Paradise Lost trilogy
When and where: Paradise Lost 3 - Purgatory screens as part of the World Cinema Showcase at Auckland's Rialto, Event Newmarket and Bridgeway cinemas between March 29 and April 11. Berlinger's film about Paul Simon Under African Skies, is also part of the festival.
Info: worldcinemashowcase.co.nz
Also: Sky's SoHo channel is screening the Paradise Lost trilogy. Paradise Lost 1: The Child Murders at Robin Hood Hills (March 28, 8.30pm); Paradise Lost 2: Revelations (April 4, 8.30pm); Paradise Lost 3: Purgatory (April 11, 8.30pm)
- TimeOut