He's a yoga-loving vegan teetotaller who spent his 'naughty boy' youth tagging and getting arrested. Askew One talks to Greg Dixon about the importance of graffiti art, the international accolades and the health scare that almost ended it all.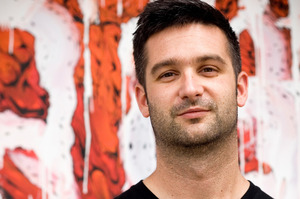 The graffiti artist and provocateur Askew One is telling a story. Inside his flat-cum-studio in an old pet store in industrial Onehunga, over a plate of baked beans on toast - it's a late breakfast and an early lunch, he tells me between mouthfuls - he's relating a little personal history that ... well, the gist of it is how we Kiwis sometimes need to just get over ourselves.
He was in Dublin, it was October 2006, and he'd just seen mad, bad James Brown play live and kick ass.
"I had a backstage pass [because] I was painting at the same event ... and two friends of mine were like, 'we've got to go backstage after the show and meet James Brown'. And I was just, 'nah, nah, nah, nah, you can't go in and bum-rush him and be all groupie on him, I'll just hold back'. They went backstage and ended up hanging out with him for about 15-20 minutes in his caravan at the back, and he was the coolest, coolest dude imaginable, and a month later he was dead."
Askew One - known as Elliot O'Donnell to the authorities and his mum - pulls a face.
"It's one of my biggest regrets. I wish I'd met him because, honestly he was, what, 73? And he was still giving an amazing performance. He couldn't do the splits anymore, but he could still spin, and spin the microphone and kick the microphone stand down and back up and all that, he was awesome. And I could have met the dude."
O'Donnell sighs, just a little. He's telling this story because, well, he thinks it says something about a subject he's been giving a great deal of thought to lately: what it means to be a New Zealander.
On the one hand his story speaks, in a small way, about our sense of modesty. "Humility ... I'm quite grateful for it, because it keeps you very, very level-headed, I think, and people overseas respond to that. One of the things that makes Kiwis successful abroad is that humility and just the way we don't give a shit about celebrity culture."
On the other hand, this "too cool for celebrity" attitude, as he puts it, can mean missed opportunities. It can mean you never get to shake hands with James Brown. The trouble, he concludes, is New Zealanders might get excited on the inside, but we just don't want to show it.
But it doesn't have to be that way.
Another story: "I had an incident where I met DJ Kool Herc, who's the pioneer hip-hop DJ. I was painting in the Bronx and he pulled up in what looked like a painter's truck ... Inside I was going, 'shit, that is DJ Kool Herc, it's f**king amazing, I've got to get a photo of this dude'.
"But on the outside, I showed nothing, I was just totally calm and I literally did like a 180-degree turn. I looked at him and I just did the [Kiwi eyebrow raise] and then kept painting. Then I was like, 'nah, this is all wrong'. In my head [I'm thinking] 'I just need to go be a fan-boy for a second' and so I went up to him. I was like, 'yeah, you're DJ Kool Herc, eh?' And he was like, 'yeah,' and I was like, 'awesome, I'm from New Zealand'. He was like, 'yeah, you need to get DJ Kool Herc in New Zealand'. I was like, 'awesome, he speaks in third person ... This is even better'."
He tells a good story, does Askew. And what these stories are about, I think, are respect - something O'Donnell himself is deserving of. The 32-year-old is, perhaps, the country's pre-eminent graffiti artist and has spent around half his life as one, at home and abroad. Although he is based here, as Askew One he has made murals in Australia, Tahiti, Germany, France, Switzerland, Denmark, England and Ireland and he has made regularly trips to the United States, specifically New York, Los Angeles, Detroit and Miami since 2008. And, as a member of the local graffiti crew and artist collective TMD - The Most Dedicated - he's twice competed in the prestigious international graffiti event, Write4Gold, in both 2006 and 2008. Both times TMD won the competition.
Yet few here, outside his peer group and fans, know his work.
"I'm treated very differently in the US. [There] I'm treated like on a mutual level with a lot of people I admire, and that, to me, is really humbling. I mean I still don't know a 100 per cent how to take it. But I do know that maybe opportunities would have been different for me had I grown up [in the US]. But had I grown up there, I probably wouldn't have become the person I am, so it's a double-edged sword."
Born in Palmerston North in 1979 but raised mostly in and around Morningside in Auckland, O'Donnell was, by his own admission, a naughty boy.
At Western Springs and Metro colleges he studiously studied four subjects: hip-hop, graffiti, drugs and alcohol. It's just what you did.
"I think it was just fun and it was seeing how crazy you could be and who could out-crazy the next person, you know. Could you smoke a joint walking from the field right through the building and right into your form class and stub it out just as you walked in, and let out a puff of smoke out the window when the teacher was looking the other way? - you'd get brownie points for that."
He gave up drugs and alcohol in 1997 - these days he's a vegan who does yoga - but he's still addicted to his other childhood infatuation, graffiti.
His first inspiration was comics - specifically Batman - and famed comic writers Frank Miller and Alan Moore. But his early work with a spray can was nothing more than tagging.
"I think in the 90s there was an explosion [of graffiti], and it was more of the tagging culture. It was kind of LA gang-style tags. All of that was what we were into. Only a few of my friends had the insight into more the New York kind of subway-style art. We got the insight a little bit later, at 15 or 16, and that's what we really wanted to do. Prior to that we just were putting our names up - roll calls of all our friends."
In this early period, there were arrests for Askew, including one in Masterton for covering rail carriages in New York-style graffiti which made the television news. But over the last decade or so, around working "funny jobs" in a stainless steel factory, as a "dish pig" and a barista, his work has gone from tagging to street art to large works on canvas, including those in his new Auckland exhibition, Smoke Signals, which opened this week.
This self-taught artist worked hard. He has done more than 2000 graffiti works and taken his art - particularly since his trips to the US and a wall-piece in 2007 called Vapour Trails - beyond what most would call graffiti. But he still had to work other jobs to stay afloat, including commercial art, making music videos and doing layout for Rip It Up magazine. And then there's that matter of respect.
"Here, outside of my peers, I think that art is still regarded as a hobby - especially an artform like what I am known for, which is, particularly, a marginalised kind of area of art. The thing is that it had a lot of stigma because of legality and all of the things that are kind of quite celebrated within our movement, and that's cool. But it's not really seen as a real job. I had people make remarks that I could graduate into being a signwriter, and that would be a successful outcome for all of these years that I've spent doing this, whereas I see that as a real major step backwards ... It's quite soul destroying at times [to think about] ..."
It was his body, not his soul, that stopped him his tracks last May, however.
"I was walking to my studio one day. I'd had an absolutely relaxing morning, caught the train in from West Auckland to the city, ate a nice healthy breakfast, had a coffee, was just, you know, listening to some music on my iPod and casually walking up Wyndham St. I got to the top of Wyndham St and basically just got struck with what they call a thunderclap headache ... I had paralysis in my left side and I couldn't speak properly.
"It was really weird and more or less within about 15 or 20 minutes of it happening I was in the emergency room and I was about 95 per cent better. I was tired. I was just exhausted, and ... man I had that exhaustion pretty much every day for moments of the day for [the next] six months but everything else came back - speech, eyesight - obviously I've got no long-term affects that are visible."
The diagnosis was something called Call-Fleming Syndrome, a rare disease where a kind of spasm narrows arteries in the brain causing temporary stroke-like symptoms. The syndrome is poorly understood, however O'Donnell's neurologist believes it is likely that his long-term exposure to the solvents in the paints he uses may be the root cause.
Whatever the reason it has been a battle to get back to work, it has stymied plans for him and his girlfriend to move to the US and it has forced him to move back with his parents.
"I ended up at their house for almost a year because the road to recovery was kind of slow and, just financially, we took such a hit from it because I couldn't work to the extent that I'm used to working, which is, like, tirelessly."
Which is one reason Smoke Signals - his first exhibition since 2007 and "the culmination of about five years of self-discovery" - is extremely important to him. Another is that he clearly wants to make his mark with the fine art folk - something he believes has yet to happen.
"I think I'm relevant, you know. I think I come from an art movement that's one of the most exciting of the late 20th century. You know, it's the only art movement that was pioneered mostly by children, or young people at least. It's the only art form in history that a huge part of it depended on its illegality and a lot of resourcefulness. It's really a celebration of all of the kind of dysfunction of living in the inner city - and I'm an absolute embodiment of that but I'm doing work that's also ... I feel like they're really credible paintings. They're paintings that are saying something and I think that they're well done and I think that it's time now [to exhibit them].
"I think had I gone knocking on gallery doors 10 years ago, or even five years ago, I can totally appreciate why they wouldn't have taken me seriously, because I hadn't had the insights that I've had now."
Smoke Signals is at Australis House, 36-38 Customs St, Britomart, Auckland, until March 22.