Welshman Gareth Evans continues to showcase the martial art of Pencak Silat in his latest film, writes Scott Kara.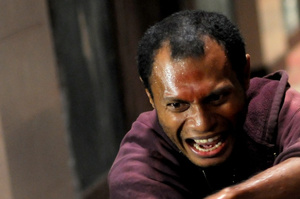 Gareth Evans is an action, blood and mayhem sort of guy. He has been ever since he was an eight-year-old, when he leapt around on the back lawn doing flying kicks with his mates.
His idols back then were Jackie Chan and Bruce Lee, but in recent years the 31-year-old Welsh film-maker has become intrigued with Indonesia and the martial art of Pencak Silat.
The discipline was the basis of his second feature film Merantau from 2009, and now, with the brilliantly brutal and bloody follow-up, The Raid, he could take Silat all the way to Hollywood.
"One of the things I feel really strongly about is the fact that Indonesia has given me my career," he says. "I would not be in the position I am in now if it wasn't for the fact that I was able to meet with and work with people in the world of Silat. It's the martial art I am kind of obsessed with now."
You see, it wasn't too long ago Evans was languishing in a day job in his homeland with his film-making skills going to waste. But in 2007 his Indonesian-Japanese wife Maya suggested they go to Indonesia. "It wasn't like one of those things where it was on my list of destinations - like I should try and go there and make a film there. She had family there. It was a comfortable thing to do," he says.
He got a job directing the documentary, Land of Moving Shadows: The Mystic Arts of Indonesia, Pencak Silat, and it was from here his addiction to Silat kicked in and inspired him to make films based on the martial art.
The Raid revolves around a SWAT team's assault on a safe house in the heart of Jakarta's slum area where a gang of hardcore crims are holed up. Led by ruthless drug lord, Tama (played by Indonesian actor Ray Sahetapy), and his right-hand man, Mad Dog (a small but seemingly indestructible villain played by Silat master Yayan Ruhian), this bunch of machete-wielding, martial arts exponents will do anything to defend their turf.
When the few remaining - living - cops find themselves stranded on the sixth floor, up steps the unassuming yet lethal Rama (played by Silat expert turned Indonesian film star Iko Uwais) to try to bust them out.
Shot almost entirely in one location - a derelict 1950s tower block complete with "creaking lifts and stone and metal staircases" - the 100-minute film is tense and riveting.
It's like an extreme version of Die Hard and Assault on Precinct 13 (the original from 1976) meets a haunted house horror flick and, well, an Indonesian martial arts film.
"When we did Merantau I think we were a bit unclear about what we were making exactly," laughs Evans. "It worked in a martial arts sense, but I think we tried to have too many elements to it. We spent a long time introducing the tradition and the culture of [Silat], and then we got to the martial arts. We should have got to the martial arts a hell of a lot sooner.
"When it came to The Raid, we thought we've introduced the culture, we've introduced Silat, and all the rest, so it ended up having a much more streamlined approach. We wanted it to move at a breakneck pace, we wanted it to move with a forward-driving momentum to it, and also we started to play around with a much more aggressive style of choreography."
Not to mention an "aggressive shooting style" with Evans' insistence the camera had to go everywhere - through broken windows as well as walls and doors - which takes the audience inside the intense, close-quarters fight scenes and shoot-outs.
The Raid also branches out in a martial arts sense with judo a major feature this time round (Indonesian Judo champion Joe Taslim stars as SWAT team commander Jaka), as well as the usual vast array of guns, nunchucks and knives. And then there are other lethal DIY weapons, like door frames, fluorescent light bulb tubes, and the old gas bottle in the fridge trick.
Though Evans admits he's a guy that "makes stunt performers take multiple kicks to the head for the pleasure of what I hope is a captivated audience", there is also a good yarn bubbling along under the surface of The Raid. And as well as the breakneck action sequences and the many inspired ways of people dying, that's what makes The Raid so good. It's a tale of power, corruption and lowdown dirty lies.
"When I watch a martial arts film I hate it when the story isn't strong enough, so when it came to making the films we make I kind of wanted to inject enough into the storyline to make it interesting. Especially in The Raid, between the fight scenes I wanted to play around with tension, and throw in some horror elements, and that just comes from me being into more than martial arts films. So while The Raid is a martial arts film, there are other elements in there that you don't usually get and I like blending genres."
The star of the film is undoubtedly Uwais, who Evans met when filming the Silat documentary.
"When we saw him perform there was this transformation in him. Beforehand he was quiet, humble, shy. But when he started his demonstration there was this physical and mental change."
Evans also realised Uwais' star quality and on-screen appeal, even though he wasn't an actor. Uwais played lead in Merantau, and his character Rama is explored further in next film, Berandal, which is the follow-up to The Raid. He is also the lead choreographer for Evans' films.
"After four years of working together he has kind of become like my little brother in a way," says Evans.
Not a bad guy to have watching your back then? "Exactly. And if he gets into trouble, I guess I can always try to talk him out of it," he laughs.
What: The Raid, Indonesian martial arts action film
Who: Welsh director Gareth Evans
Opens: In cinemas March 22.
-TimeOut