The word "legendary" gets bandied about pretty loosely these days. But it definitely applies to Roky Erickson, whose mind-bending music with The 13th Floor Elevators in the 1960s stands up as some of the most exciting and adventurous music of the era – but his long strange trip was far from over when The Elevators came unstuck.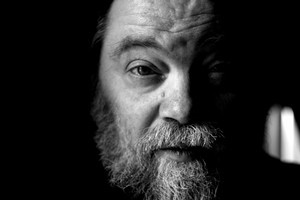 Roky Erikson is from Texas, not the most enlightened state in the Union, then, or now. He was busted for possession of one joint and eventually committed to the Rusk State Hospital for the Criminally Insane where he was forced to undergo electroshock therapy.

By the time Roky was released in 1972, he was a shell of his former self. Even then, he began making music again. His songs were inhabited with two-headed dogs, zombies, aliens and alligators in the sewers. Musically, he had turned up his guitar, unleashing a proto-punk sound that still resonates today.
The 1980s were a washout for Erickson, his brain giving way to the demons and voices in his head. It looked like he was doomed to become one of rock's great lost souls alongside Pink Floyd's Syd Barrett and The Beach Boys' Brian Wilson.
Things started to turn around for Roky over the last 15 years or so. His brother helped sort out his medical and legal problems and he began making music again. A feature length documentary, You're Gonna Miss Me, was produced in 2005 and two years later a book on The 13th Floor Elevators was published.
Erikson began gigging around his hometown of Austin, Texas, and in 2010 he released a new album, True Love Cast Out All Evil, with assistance from Austin band Okkervil River.
That's a lot of history. Which makes it seem all the more remarkable to learn that Erickson will play a date in Auckland at the Kings Arms. With some trepidation, I placed a call to Roky's home in Austin, spoke briefly with his wife, and then, there he was, greeting me with a strong Texas twang. It was a holiday in the US and Roky and his wife were relaxing, contemplating cooking up a barbeque.
"Just taking it easy. We got a new George Forman grill. They're pretty weird, we love it."
Talking with Roky proved to be something of an adventure. Sometimes his answers didn't necessarily correlate with my questions. And he has a habit of ending each sentence with "you know", which was rather endearing. When I called he was watching TV. I asked what was on and this was our exchange:
ROKY ERIKSON: Just lots of cartoons. Right now I'm watching cartoons and everything, you know.
MARTY DUDA: What's your favourite?
Well, I like Bugs Bunny a lot, and I like Scooby-Doo. And I'm drinkin' water right now - water with ice in it - yeah.
When asked if he enjoys playing his music from his days with The Elevators, Erikson responded with: "Yeah, I study it. I always asked them where they got their stuff, The Elevators, and apparently they read the Bible and would write songs about the words that they would discover in the Bible, you know."
He was happy to recount the time he and The Elevators appeared on Dick Clark's American Bandstand in 1967 to perform You're Gonna Miss Me.
"We did one song there, that's all we'd ever do is one song, you know. Seems like we'd do more, but we just did the one. We said, 'Hey, Mr Clark, would you ask us who the head of the band is?' Then Tommy Hall [Elevators' jug player] got up and said, 'We're all heads!' Very strange."
I was curious to find out if Roky was familiar with Pink Floyd's Piper at the Gates of Dawn since he has been compared so often to the Floyd's Syd Barrett.
"No, I've never heard of Pink Floyd. I'd like to be introduced to his music some. You like him? Is he pretty good?"
I assured him that the first Pink Floyd album was impressive and moved on to asking him about the songs he wrote after his release from hospital in the 1970s.
"Oh, mostly just writing about things that I had studied in school. Reading about people like this janitor who went up in the attic and he'd make the sound of a hammer and people would wonder about him and everything. They wrote a story about him. Kinda strange, you know. He was a benevolent creature. One you could talk to and get to know."
When asked if he was aware of his legacy, he answered with an appropriately psychedelic-tinged answer.
"I just have to rely on my friends and acquaintances and find out more and more about being attuned to different vibrations that have happened that are good. I've been having a good time, I know that."
*Roky Erikson plays The Powerstation in Auckland on Wednesday 7 March.