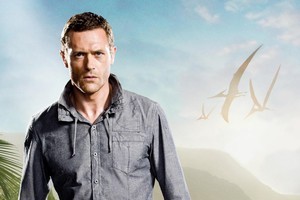 Jason O'Mara is living the dream as the lead guy in Spielberg's Terra Nova, writes Scott Kara
It was Star Wars, and then one of Shakespeare's greatest plays, that provided two turning points in Irish actor Jason O'Mara's life.
"I watched Star Wars as a 5-year-old, thinking I might not be able to be those people but I want to do whatever they are doing," says the 39-year-old, who also grew up on a steady diet of Alien, Blade Runner, and Terminator.
However, he didn't really think too much about acting again until he was 17 and his school play for that year was The Merchant of Venice. Back then he would have probably been happier playing rugby after school but, due to an injury, he auditioned for the play instead and got the part.
"I walked on stage and I caught the bug," he says. And now, as former narcotics cop-turned-time travelling father of three and dinosaur defender, Jim Shannon, he finds himself on the biggest stage of all.
Shannon is the lead character in Steven Spielberg's new blockbuster series, Terra Nova (starting tonight on TV3, 7.30pm), which is the most expensive TV show ever made. The two-hour pilot cost around US$20million ($24.1 million) and each of the other 11 episodes US$4million.
When O'Mara first read the script for Terra Nova, he thought: "This cannot be made for television. They are mad. How can I be part of it?"
He admits Spielberg's name being "on the front" of this ambitious and costly production, with its vast sets and CGI dinosaurs, was crucial in it getting made in the first place.
"It [Spielberg's name] gave the concept and the script a vote of confidence. It was exciting because they really were going to try and get this on screen - and that it could happen."
Terra Nova begins in the year 2149 with human life on the verge of extinction because of overpopulation and air pollution. The only hope of survival lies through a time portal that allows people to travel 85 million years back in time to an "alternate" prehistoric Earth. The story picks up with the Tenth Pilgrimage of settlers on their way to Terra Nova, a colony led by tough and uncompromising Commander Nathaniel Taylor (played by Avatar star Stephen Lang).
In case you haven't heard, the series is like Jurassic Park meets Lost by way of Avatar and Raiders of the Lost Ark.
"Even though it draws from many different sources of inspiration, I thought the whole concept was pretty unique," says O'Mara who sees the colony as kind of a frontier town.
"In that way we echo themes from the Wild West and that's when I think the show is at its most powerful - when it's functioning as a frontier story."
O'Mara is a bit of a charmer. His Irish lilt isn't particularly strong but it sneaks out every now and then, when he says words like "battle" and when he's talking passionately about rugby. But mostly he sounds like a very well-spoken chap. He's got an every-man look, but with a rough and ready, action man-type swagger, making him the perfect guy to play Shannon.
He has previously starred in the American version of Life on Mars as Sam Tyler, who also happened to be a time-travelling police officer. But scoring the Terra Nova part is his biggest role yet.
In the early scripts, Shannon was more of a hot-headed, bad-boy cop in cahoots with drug dealers. And while he is still a rebel, O'Mara took Shannon and made him a more well-rounded person.
"What I tried to do was take the incarnation of a character who had the ability to turn, get aggressive, and perhaps overreact to a situation.
"I like to try and play characters who are unpredictable and I tried to imbue Jim with that sense of unpredictability and give him a short fuse, not necessarily with his family, but when it comes to protecting them. It gives him an element of darkness because there is a little bit of rage there."
But Shannon is also caring and loving with it, and a protector. He was not originally on the list to make the Tenth Pilgrimage to Terra Nova but forced his way through the time portal to be with his wife Elisabeth and three children, Josh, Maddy, and Zoe. He's also the one who saves Taylor from being assassinated by a member of renegade group, the Sixers.
O'Mara, who was the first to be cast for the show almost two years ago, says he is relieved to finally have the show out for people to see.
"It's a huge relief when you've finally launched this thing that has been gestating for so long. It feels a little scary, and it's all those [cliched] things people talk about, like giving birth, having a child, which is a little dramatic but it's a relief."
Lowdown
Who: Actor Jason O'Mara as Jim Shannon
What: Terra Nova, 7.30pm, TV3, tonight

- TimeOut