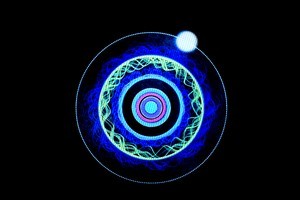 The galleries are not quite in full swing yet but a couple of exhibitions show something of the state of the scene and it is, predictably, extremely varied, with painting in a range of styles and a hint of a return to print-making. There is also some kinetic sculpture and a surge of interest in craft jewellery.
The group exhibition called New Year New Work, showing the work of established artists at the Gow Langsford Gallery, contains some surprises.
Breaking his established mould is Michael Hight, whose reputation is founded on painting beehives in landscape - citadels of hidden activity planted like monuments in the bright New Zealand light. No beehives here but a curious work called Here I Give Thanks to Arthur Mee, which reworks a diagram from his children's encyclopaedia showing the periodic table. It becomes an image of how the world goes round.
Dick Frizzell, last seen painting poetry in moody lettering, has changed to conventional still-life.
He certainly conveys the fat rotundity of a large teapot in Big Pour, but misses the shine of an accompanying enamel mug.
The ultra-realist wing of contemporary art is represented by Martin Ball, with an illusionist pencil drawing of sheets of paper laid out in the minimalist manner of a Japanese garden. The crossover between Maori pattern and European abstraction and lettering is authoritatively exemplified in two paintings by Darryn George.
Conventional rectangular painting is completely abandoned in four variations on the theme of Love Me Sweet by Sara Hughes. Each variation has four or five spiky elements painted on aluminium. They are half animalcules, half paisley pattern and intricate, colourful and full of energetic movement. Also departing from the rectangle are two circular paintings by Chris Heaphy, one loaded with concentric circles of face and skulls, the other dominated by infinity symbols. They manage to be a bit more than decorative as they suggest both revolution and evolution.
The whole show is full of optimistic hints that our important painters are not static but in a state of evolution. Even Karl Maughan, whose vigorous painting of flower gardens filled with light shows that his firmly established style transfers well to screen printing.
The show contains some surprises. Reuben Patterson is finally truly inventive. His work, including the big mural on show at the Gus Fisher Gallery, has always used his glitter dust surface with borrowed imagery. His painting Drag has floral patterns disturbed by a sudden fluid intrusion and is a shift in style that is a potential way out of his developmental impasse.
It makes an exhibition that raises expectations for the coming year.
Two new temporary exhibitions at the Pah Homstead in Hillsborough are representative of the academic art world. The work of sculptor Rachael Linton was submitted as part of a master's thesis. It has clear historical precedents. There are three spinning discs with patterns on them of the kind first displayed by Marcel Duchamp early last century. Patterns of concentric circles, lozenge shapes and triangles are drawn on the discs. When they are set revolving they form a tunnel, a throbbing shape and a combination of stars and circles respectively. A novel element is that the speed of the spin can be controlled by the viewer.
The rest of the show is three colour televisions which incorporate the colour theories of the designer Johannes Itten, who taught at the famous Bauhaus in the 1920s. The central screen asks the question, "If we could see sound what would it look like?" and endeavours to give visual form to chant. The effect is claimed to be therapeutic by "re-tuning human ailments".
The other exhibition, called Retrospect, is a contemporary jewellery show curated by Jo Mears. This work is not by manufacturing jewellers. All the participants are fine arts graduates into individual expression.
Jewellery seems to have replaced the pottery movement that dominated New Zealand craft last century. As the pottery movement developed it was prone to tend to ceramic sculpture. The essential vessel quality that is the basic characteristic of good pottery was smothered. Here the function of jewellery being next to the skin is often lost as the work is made to hang on a wall or remain static.
The exhibition is strongly influenced by Wellington-based jeweller Peter Deckers. A huge cabinet involving 64 lenses that magnify pieces of his jewellery within the case is the centre of the show. The jewels include a large silver hand-hammered nail and details from The Night Watch impressed on a spoon. Deckers, who spoke at the opening of the exhibition, emphasised that jewellery is often associated with gifting which he said was a "primal urge" and the gift must have value; a gift must be in some way precious.
In this craft jewellery, the value often lies not in precious stones or valuable metal but in originality and imagination.
The materials range from circuit boards, with their glittering electronic detail, to rabbit excrement, baked and varnished to look like jet. Something like a conventional necklace called Noisy Blob Strings by Sharon Fitness is colourful plastic and incorporates ipods and earphones. The transformative power of imagination and skill is best seen in the exquisite fan shapes made of silver and takeaway containers by Kristin D'Agostino.
The range of effects has something to please everybody, whatever theory they embrace.
At the galleries
What: New Year New Work by various artists.
Where and when: Gow Langsford Gallery, 26 Lorne St, to February 18.
TJ says: The year at dealer galleries gets under way with a show by established artists whose styles range from illusionistic realism to the accidental effects of poured coloured resin.
What: Trick i-ey'e by Rachel Linton; Retrospect : a contemporary jewellery show.
Where and when: Pah Homestead, TSB Bank Wallace Arts Centre, 72 Hillsborough Rd, Hillsborough, to March 15 (Linton); April 15 (jewellery).
TJ says: Spinning discs and colour television linked to throbbing music, and a varied show of contemporary art jewellery, stimulate discussion at this lively public gallery.