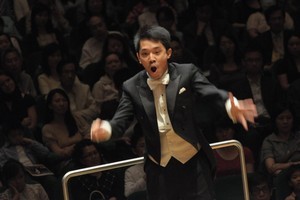 Hong Kong-born and Yale-educated Perry So is thrilled to be back in the country, taking the podium with the New Zealand Symphony Orchestra next Friday.
It will be the orchestra's first visit of the season and, as with the conductor's NZSO debut 12 months ago, it's a Chinese New Year celebration, with John Chen as soloist in the Yellow River Piano Concerto.
So found last year's heady mix of Dvorak, Lalo, Jack Body and Bright Sheng was "a programme that managed to pull so many disparate strings together".
"I love this orchestra," he exclaims. "Not only are they really a lovely group of people, but there's something special about the atmosphere. There's an openness and a willingness to try something new, which is not always the case with classical musicians."
Inevitably, we talk of the new, high-profile music from contemporary Chinese composers such as Bright Sheng and Tan Dun.
Sheng's Postcards was clearly a personal highlight of last year's NZSO concert and, for So, Sheng manages to resolve the crucial problem of expressing the essentially non-orchestral Chinese spirit within a sophisticated Western orchestral tradition.
"It's so tightly constructed," So adds. "Just like a Swiss watch."
So weighs his words carefully with this year's Yellow River Piano Concerto. He admits he doesn't like the bombastic moments of this party-line score but respects its more lyrical elements. In fact, he is working on a pre-concert talk that he'll deliver, looking at how we should perform and listen to this work.
In the meantime, he discusses "all those classically trained musicians who suddenly found themselves out on the streets during the Cultural Revolution. Works like this concerto gave them something to play.
"It does have redeeming qualities," So insists. "And for my generation, which has come through without the complex relationship with the Cultural Revolution that our parents had, it's possible to re-evaluate this work."
The conductor is looking forward to working on the song-cycle The Floating Bride, The Crimson Village, written by Wellington composer Ross Harris to poems by Vincent O'Sullivan, inspired by the paintings of Marc Chagall.
In 2010 it was one of the delights of the NZSO's annual Made in New Zealand concert, with soprano Jenny Wollerman deftly catching the myriad moods of the work's miniature settings. So detects a certain French influence in the piece, and the name Poulenc slips into the conversation more than once.
"I am drawn by its wonderfully tasteful sense of pastiche and sensitive orchestration. This composer has really thought it through. When a new score has such a level of sensitivity in the orchestration, I know it's a winner. It's light-footed without ever being lightweight."
So enjoys working with contemporary composers and is particularly excited to be returning to Hong Kong next month to conduct the premiere of June Lovers, a theatre-piece by young Hong Kong composer Angel Lam.
"Working with contemporary composers brings an element of dialogue, a certain back-and-forth, that just isn't possible when the guy's been dead for 200 years," he laughs.
Beethoven may fit in that category, nevertheless his Pastoral Symphony, which closes Friday's concert, is just as eagerly anticipated as the more recent works on the programme. This symphony, one of So's favourites, is also one of the tricky ones.
"It's sandwiched between the Fifth and Seventh symphonies, and works with an almost feverishly paced dynamic thrust," So explains.
He sees the work, intriguingly, as presenting a "kind of invented primitivism. Beethoven uses a language that's very much what he thinks might be primitive or primal music.
"It's much more original than the Seventh and yet there's also an inwardness there - and finding that is the challenge."
Performance
What: New Zealand Symphony Orchestra
Where and when: Auckland Town Hall, Friday at 7.30pm, with conductor Perry So's pre-concert talk at 6.45pm