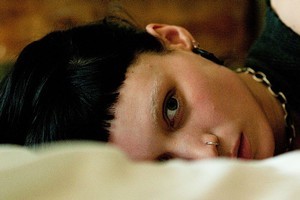 Moviegoers face some tough decisions this weekend with the release of three high-profile, well-reviewed films that have had great reviews and share a swag of Oscar nominations.
The first of those is David Fincher's Hollywood remake of The Girl With the Dragon Tattoo, starring Daniel Craig and Rooney Mara.
The US version of an adaptation of Stieg Larsson's phenomonely popular book trilogy has had great reviews, several Oscar nominations and rates at 71 percent on review aggregate site Metacritic.
And with a soundtrack composed by Trent Reznor, there are plenty of reasons to check out the film dubbed "Fincher's valentine to goth girl power, detective stories, and the grotesqueness of the human heart" by film website ReelViews.
Check out the trailer for The Girl With the Dragon Tattoo:
If that's not your cup of tea, nzherald.co.nz blogger Dominic Corry said Charlize Theron was robbed by this week's Oscar nominations for her role in Young Adult.
The film, about an immature blonde who returns to her small hometown to win back the affections of her now married high school sweetheart, isn't up for an Oscar, but Corry said Theron's performance was so good she deserved one.
"Theron is nothing less than amazing in the film, and Patton Oswalt should also have been nominated for his supporting role," said Corry.
While the trailer makes Young Adult look a little like a rom-com, reviewers say it's a darker and creepier experience than you might expect.
"It's the most unsettling nice surprise of 2011," said the Tampa Bay Times.
Young Adult has a 71 percent review rating on Metacritic.
Check out the trailer for Young Adult:
George Clooney has already won a mantlepiece worth of awards for The Descendants, a new comedy-slash-drama from the same lads who gave us the excellent Sideways.
The film's director, Alexander Payne, claims Clooney delivers a career-best performance, and the Washington Post agreed.
"A pitch-perfect movie that threads a microscopically tiny needle between high comedy and devastating drama," said reviewer Ann Hornaday.
Check out the trailer for The Descendants:
Other films to be released this week include The Viral Factor, Agneepath and All's Well, Ends Well.
- Herald online