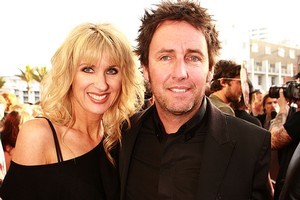 Auckland power couple Mike Hosking and Kate Hawkesby are reportedly planning to marry this weekend.
Hosking, a breakfast host on Newstalk ZB, is set to marry Hawkesby at her father John Hawkesby's Waiheke Island home, according to Fairfax Media reports.
But details on wedding are scarce thanks to a confidential deal with a local woman's magazine, believed to be Woman's Day.
A source told the media outlet that all guests at the wedding were made to sign confidentiality agreements.
The couple - dubbed 'Mikate' by New Zealand's media - announced their engagement in Woman's Weekly in July, 2010, in a deal reported to be worth $50,000.
At the time, Hawkesby told the magazine the wedding would focus on the couple's combined children, Hosking's twins, Ruby and Bella, 9, and Hawkesby's children Jackson, 11, Josh, 9 and Marley, 3.
But there was more of a focus on Hawkesby's engagement ring, estimated by jewellery and diamond experts to be worth $300,000.
Hosking proposed to Hawkesby on a bridge across the Yarra River in Melbourne.
- Herald online