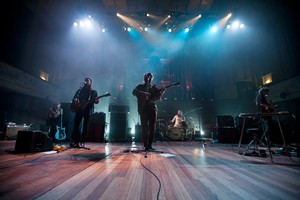 Two hours is not an inconsiderable amount of music, but still, the Fleet Foxes felt fleeting. They came, they played, they told us we were a better crowd than Australia, and Wellington, they stole our hearts, and then all too soon it was over.
It is a rare treat these days to go to a concert with soaringly high expectations, and feel they were met, but watching these six men at the Town Hall last night, they were as beautiful as the memory of their 2008 concert here.
Tiny Ruins aka Hollie Fullbrook opened the show on an equally beautiful note, performing as a duo with double bass player Cass Basil. It was a deceptively simple set up, with Fullbrook's always stunning vocals perfectly supported by the web of acoustic guitar, plucked bass and backing vocals. They played several new songs, Reasonable Man being a highlight ("it must be lonely to be the only voice of reason" - a weighty sentiment delivered with poignancy), and won over a rather talkative crowd.

In fact, the packed out audience seemed to have a lot of catching up to do, chattering loudly until the lights went down, and the foxes appeared in the blue shadows of the stage.
They opened with The Plains/Bitter Dancer, off latest album Helplessness Blues, weaving around each other with double bass, drums, piano, guitars and mandolin, mesmerizingly layering oohs and ahhs in intricate vocal harmonies. When Robin Pecknold's opening vocal line "just as the sand as made everything round" quietly rose, it brought goosebumps, and when double bass player Morgan Henderson (who is delightfully wearing a trucker cap) picked up the flute, we were transported to a new plain.
Segueing into the rhythmic, rocking, Bitter Dancer section, there was a joyfulness to their vocals that seemed much more hopeful than helpless, and that sentiment stayed all night.
Their songs are always a masterful work of contrasting dynamics, and shifting rhythmic patterns, and this translates so well live. They would build up layers of emotion and momentum, and when they suddenly dropped back to an a capella vocal section, or let a guitar riff ring out, it pulled at all the right heart strings.
Apart from having an uncanny knack for singing stunning harmonies, the six are all talented multi-instrumentalists, which makes for a diverse sound palette, and it was a set fairly well balanced between new album songs, and old favourites from the Sun Giant EP and their first self-titled album.
The loping energy of Bedouin Dress felt like a perfect summer road trip, or perhaps boat trip, as Pecknold sings "all of the sirens are driving me over the stern".
Sim Sala Bim had the audience clapping and jumping along in what felt like the first proper 'hoe down' of the evening, and the mid-set triple whammy of three old songs - the haunting Your Protector, followed by crowd singalong favourite White Winter Hymnal, melding into a euphoric Ragged Wood - was a treat.
Equally powerful though were the more contemplative numbers, such as Blue Spotted Tail, which has Pecknold sounding as delicate and wistful as Art Garfunkel, or Montezuma, which has a gentle lullaby quality, as they sing "how could I dream of such a selfless and true love, could I wash my hands of just looking out for me?"
The audience were right behind them when they launched into He Doesn't Know Why, with it's "there's nothing I can do" refrain. Voices were raised in unison. And again as Pecknold came back on stage for the encore, and led the audience in a shiveringly good version of Oliver James, he had everyone's devoted attention.
Before finishing the evening, in a nice touch they thanked their crew individually, and thanked Hollie and Cass for their opening set, and then dove straight into a cacophonic version of Helplessness Blues. It may just be a folk anthem for a generation slightly lost by figuring out life's purpose, but rather than bleak or bitter, it is determinedly joyous in it's admission of "I don't know what that will be, I'll get back to you someday soon, you will see".