Lydia Jenkin talks to Amanda Palmer about why seeing The Dresden Dolls' show is a must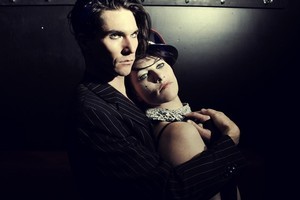 Amanda Palmer, one half of Brechtian punk cabaret act The Dresden Dolls, is on the line from Australia, full of enthusiasm and energy. She's been touring there as a solo artist, before last week launching into the first Australasian tour by The Dresden Dolls since 2006.
The duo, which she fronts with drummer Brian Viglione, have been on a casual sort of hiatus since 2008, with Palmer concentrating on her (rather successful) solo career and the pair playing occasional shows but not strictly touring or recording.
In fact, they're still not writing or recording anything new but it felt like time for another tour.
"I guess it's now been long enough that a lot of people who are fans of my solo stuff haven't seen my incarnation as The Dresden Dolls - and it's a great incarnation. I tell everyone you have to see Brian Viglione drum before you die. It needs to be on everyone's bucket list."
Their live format will be familiar to fans - Viglione on drums and occasionally acoustic guitar; Palmer at the piano and on vocals. But there could be a couple of extra elements - Palmer has been playing a lot of ukulele of late, so it could make an appearance.
"It's possible. That's mostly something that I've picked up in my solo career, but you never know, Brian and I might pull out a couple of bizarre surprises." Bizarre surprises, and liberating improvisations have always been part of The Dresden Dolls' appeal, even the costumes and visual themes often combining curious delights.
"Brian was touring in Europe a couple of months ago and found this crazy, high-visibility fisherman's outfit that he'll probably wear, and I usually put together some sort of vintage explosion ensemble. I'm about as far away from calculated as it gets in the wardrobe department."
Fans often get in on the action too, creating their own costumes and even performing outside venues before a show.
"Our busking friends will show up and play and earn a little bit of money while people are waiting for their tickets and it can be like a beautiful mini-circus."
It's a real community of fans and the duo aim to keep themselves as reachable, integrated, and open as possible, welcoming anyone who's interested. In fact it has been a core aim from the start to make sure there were no boxes or restrictions around the band, and was part of the reason that Palmer was wary of being ascribed a particular genre, especially the label "gothic". Worshipping The Cure, and Joy Division and Bauhaus growing up, Palmer had an interest in the goth scene, but found it somewhat marginalising as it changed direction in the early 90s.
"I would go to goth clubs and kind of sit there wondering, 'why don't I have anything in common with the people here, 'cause I'm just sort of sitting here praying that they're going to play something by The Cure or The Smiths so I can go and dance, but all this music sounds terrible to me'. And I just didn't want to get lumped in there. We wanted to find our own people, and we wanted to find a big general audience that could include anyone, we didn't wanna start a clique. Brian and I had this really deep urge to create a space for all of the misfits and losers and the goths and the gays and the people who had no idea what the f*** was going on, but knew they needed a place to be. We wanted to create that umbrella with the band."
And it seems they have achieved that with fans of all types connecting at their shows. "We can cosmically high five each other, 'cause this 15-year- old punk girl and this 45-year-old hippie MIT professor will be enjoying the music together, and there's something so beautiful about that, that the band can transcend genre or age in that way."
The Dresden Dolls songs, having a similar dichotomy to their name (with Dresden representing something raw and destructive; and dolls bringing an element of innocence and childlike pleasure), are often fairly autobiographical. They're personal to Palmer, reflecting different periods in her life, but she still relates to the material now, as much as she did five or six years ago when the songs were written.
"I'm fascinated by the ingredients that go into human emotion, and I'm fascinated by my own patterns and habits, and that's a lot of the stuff that I wrote about, and still write about. To me, songwriting is a constant challenge to get to the root of something honestly but without being really obvious and patronising to the listener, I guess. And that hasn't changed, that's been kind of a cornerstone of my songwriting since I was 15 years old. I think that's just what interested me and still draws me in."
Lowdown
Who: Boston duo The Dresden Dolls.
When and where: at The Powerstation in Auckland on January 27, and The Opera House in Wellington on January 28
-TimeOut