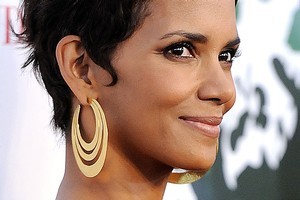 Third time's a charm: Halle Berry is set to tie the knot again after accepting a marriage proposal from boyfriend Olivier Martinez, according to online buzz.
Us Magazine quotes a source as saying French actor Martinez, 46, popped the question with a stunning emerald-and-diamond engagement ring from designer Gurhan over the Christmas holidays.
Berry, 45, was snapped sporting the very same bling on her ring finger in late December, promoting speculation that her man had opted for a festive proposal.
Radar Online published a snap of the New Year's Eve star with a ring on her wedding finger while dining in Los Angeles.
"Halle has found her true soul mate in Olivier and it's only a matter of time before they tie the knot," a pal told the website.
"She's madly in love and knows she wants to spend the rest of her life with him. Olivier has been the rock that Halle has never had in any of her relationships."
Berry first met Martinez while the pair worked on the set of movie Dark Tide, and went public with their romance in late 2010.
A source told Us: "[Halle] had given up on being married, but she trusts Olivier. He makes her feel safe. He's a keeper!"
A rep for jewellery designer Gurhan confirms to People that Martinez gave Berry the engagement ring.
The actress - who has a three-year-old daughter, Nahla, with model ex-boyfriend Gabriel Aubry - has been married twice before. She swapped vows with baseball player David Justice in 1993, and then with singer Eric Benét in 2001.
Martinez previously dated Kylie Minogue, before calling it quits in 2007.
"I will never marry again," Berry told Oprah in 2004. "I mean it with every bone in my body."
She also told The Sun last year: "I wish I had known then that I was not the marrying kind," she said. "It would have saved me a lot of time, heartache and grief over the years."
She added, "I have done it twice and I am not going to do it again. The traditional form of marriage is not for me."
Martinez, you're the man!
Reps for Berry and Martinez have not officially confirmed the engagement.
Update: Kylie has just tweeted her best wishes to her ex boyfriend and his new fiancée.
"Congrats to Olivier Martinez and Halle Berry!! #wedding" she wrote.
- Blogger Bites Back