Robert Downey jnr and Jude Law are back as dynamic detective duo Sherlock Holmes and Dr Watson, in the latest instalment of the adventure-packed franchise. Michele Manelis talks to director Guy Ritchie and his leading man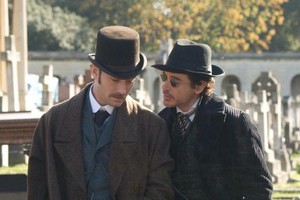 The world's most famous and eccentric detective and his assistant return to fight crime in Sherlock Holmes: A Game of Shadows. Allegedly budgeted at a hefty US$175 million ($225 million), it appears director Guy Ritchie's modus operandi was to be "bigger and badder" than its predecessor. In doing so, he ensures heavier action, better special effects, and darker emotional content.

"The bar was set pretty high on the first one, particularly in terms of the action and that really bothered me. I thought, 'If we don't beat this or do something new or five times better, I'm going to be miserable'," says leading man Robert Downey jnr.
The original Sherlock Holmes, released in 2009, was made for US$140 and grossed US$524 million worldwide.
Downey jnr continues, "Maybe I put too much stock in all of this because I take it all very personally. It makes me physically ill when I don't believe we can attain our goals.
We had a little more money on this one but we wanted to make everything that much bigger."
Ritchie nods in agreement, and says, "We tried to trump what we did before. Just the game of trumping keeps everyone stimulated. These movies are tremendous fun to make but also very hard work."
The movie includes a chase across Europe, which looks to be inspired by many a James Bond movie. Says Ritchie, "Yes, Bond did influence the international aspect of the film. We liked the feel of how Bond is epic in that sense and feels very international. And it was important, really, that we didn't remain as a provincial English picture and that's one of the reasons why I liked the idea of an American actor playing an English icon. It needed to feel broad. And it needed to feel international."
Some new characters enhanced the storyline, notably, the inclusion of Swedish actress Noomi Rapace (The Girl with the Dragon Tattoo) as a gypsy who inadvertently becomes the third wheel alongside the crime-fighting duo. And Holmes' nemesis, the dastardly mastermind, Professor Moriarty, played by Mad Men's Jared Harris.
Says Harris: "My main concern was not to mess it up. Sherlock does such a great job of giving you an impression of the threat that the Moriarty poses. My main fear was that you weren't disappointed when you meet the guy."
What does remain, although somewhat amped up, is the ambiguous gay subtext between Holmes and Watson.
There's also some disguises featuring Holmes in drag. Downey jnr says, "I think there's an assumption that there's something going on between them, and the audience thinks, 'Hey, what's really going on with these two?' I thought it was important to push it further so when I am lying down in drag, having taken my pantaloons off, I say, 'Lie down with me, Watson!"'
Jokes Ritchie, "With Robert and Jude, their relationship off camera is pretty similar to their relationship on camera but ... probably not quite as camp. But they're great mates."
Downey jnr adds, "Well, Jude and I are pretty close but Guy and I are practically brothers which makes things really interesting. There have certainly been times when I've wanted to lop off his head with a machete."
The friendship between Ritchie and Downey jnr seems genuine, and like many creative collaborations, it has its challenges. Ritchie glances at his star actor. "Robert's never late, Robert's not lazy and he's on set before he needs to be there," he says. "And sometimes I wished he'd come after he was supposed to be there," he sighs, for dramatic effect.
The production is very much a family affair in the literal sense. Downey jnr's wife of six years, Susan, largely responsible for getting him on the straight-and-narrow after many years of drug and alcohol abuse, is one of the producers. "I am the boss on the set, as I am at home," Downey jnr declares, jokingly. "No. I mean, it's really as simple as this: I don't like it when somebody knows me so well that they can go, 'Yeah, that's not going to cut it' ."
The couple are expecting their first child, a son, next month. (Downey jnr has an 18-year-old son from a previous marriage).
Having done two movies about the famed detective, does Downey jnr feels a sense of ownership towards Sherlock?
"Yes, but I also like to watch other people's versions of him. Whenever I watch someone, even it if doesn't turn out so great I at least admire their intentions," he says. "I think it's important that we're all part of the same collective of honouring this great writer, Sir Arthur Conan Doyle, and his stories."
LOWDOWN
Who: Guy Ritchie and Robert Downey jnr, director and star of Sherlock Holmes: A Game Of Shadows
When: Opens in cinemas today
-TimeOut