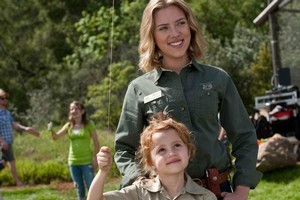 There's an element of "attitude" Scarlett Johansson brings with her when entering a room. Within seconds it becomes apparent that this 27-year-old movie star is no pushover.
"I'm so glad I was raised in New York," she says, gesturing towards the hotel window which looks on to Central Park. "The city is a huge part of who I am. Free thinking, volatile and spiritual." It seems her favourite city is one of the only places Johansson is free to roam the streets without fuss. "Oh, people don't bother me at all. New Yorkers aren't like that. They might recognise me, but they'll be like, 'Whatever,"' she says, feigning boredom at the notion a famous actress is in the immediate vicinity.
Johansson is arguably one of Hollywood's best actresses in her age range. A marquee name and at the same time, critically acclaimed, she has appeared in movies such as Vicky Cristina Barcelona, The Other Boleyn Girl, and more recently, Iron Man 2. Immensely alluring, fellow Manhattanite Woody Allen, who directed her in Match Point, and Scoop, famously described her beauty as "sexually overwhelming".
It's interesting, then, that director Cameron Crowe, with whom she worked in her latest movie, We Bought A Zoo (based on the best-selling novel), didn't make the most of her natural assets.
The actress/model whose name appears atop many "Sexiest" lists and stars in such high-glamour advertising campaigns as Louis Vuitton, Calvin Klein, and L'Oreal, would not be the go-to choice to play a head zookeeper.
Worlds away from her usual body-hugging ensembles, such as in the upcoming superhero epic, The Avengers, in which she reprises her Iron Man 2 role as Black Widow, she says of her sensible attire in Zoo, "Cameron calls it my Jane Goodall look," she laughs. "I have to tell you, filming a role as a zookeeper was a lot better than wearing that latex bodysuit."
Eating a chocolate chip cookie, she says, "I've been auditioning for Cameron for about 10 years and every work session that we've ever done has always been some of the most rewarding for me creatively. When I read the script, I didn't really know what I could contribute to the part, but I met with Cameron and I just wanted the opportunity to work with him, and to develop the character with him more than anything," she says.
Based on Benjamin Mee's memoir, We Bought a Zoo: The Amazing True Story of a Broken-Down Zoo and the 200 Animals that changed a Family Forever, is about a journalist (Matt Damon) who re-opens a rundown zoo after his wife's death. Johansson plays the woman who helps him pick up the pieces.
Although Mee is British and lives in the UK, the story was moved to California, and was filmed around LA.
People might be surprised to hear Johansson, widely regarded as a "femme fatale" type, is animal friendly. "Are you kidding? I've always had animals, ever since I was a kid. I had reptiles and cats. I currently have a dog and horses and so I'm used to being around animals a lot. I felt like that zoo was kind of mine. Those are my tigers and those are my zebras and those are my camels," she smiles.
As a celebrity, perhaps she has an inkling of what it's like to be a caged animal and object of fascination?
"Yes, there's certainly a freak show aspect when you're recognised and it's a strange adjustment. I don't know if I'll ever have it worked out and people take for granted their anonymity until they don't have it. But I don't want to sit here and complain. That's just annoying to hear an actor do that," she says.
However, with her recent divorce from actor Ryan Reynolds (they were married from 2008 to 2010), and subsequent fling with Sean Penn, she hasn't had an easy time of late.
"There's an invasion of privacy that can come to a boiling point because information is so readily available," she offers.
Famously private about her personal life, it was surprising that she told the US television programme Access Hollywood that she had "no regrets" about her failed marriage. When gently prodding her about those comments, she retorts, "I already talked about it."
Of Polish/Danish descent, Johansson's father is an architect, and her mother, Bronx-bred Melanie Sloan, a former school teacher. Although Johansson's parents are both atheists, she was brought up celebrating both Christian and Jewish holidays. Her parents separated when she was 13. She and her siblings - a twin brother, an older sister, an older brother and half-brother were raised primarily by their mother.
Back in 1998 when she was cast in Robert Redford's The Horse Whisperer, she was a typically sullen 14-year-old teenager, with a whiff of defensiveness. "I've always been told I'm an old soul," she said back then. "I've been told I'm 14 going on 40, but I think it's a result of growing up in New York City. There's a cultural awareness there that I've been able to take advantage of."
Several years and numerous starring roles later, in movies including Lost In Translation and Girl With A Pearl Earring - both garnered best actress nominations at the Golden Globes - she became the anti-Lindsay Lohan archetype, and steered clear of any kind of hard-partying habits. "That life is not anything I've ever been interested in. I work really hard. I'm pretty low-key and I don't make a big scene everywhere I go."
She was, and continues to come across as a very serious and thoughtful young woman. She's aware of life outside the bubble of movie stardom.
A staunch Democrat, she campaigned for John Kerry in the 2004 presidential election, and was an avid supporter of President Obama. Now, in view of his waning popularity, she says, "He was given a really crappy hand. When he took on everything that he took on, it was never going to be a one-trick solution. And that was part of his platform. He said, 'I'm in it for the long haul."'
There's been talk of late that Hollywood may not campaign for him quite as ardently as in 2008. "Well, I think it would be irresponsible not to, especially when looking at what we're up against. I mean Michele Bachman, are you kidding?" she says, with a direct gaze. "I watched the highlights of the Republican debate. That was a freak-show. We cannot allow any of those candidates to take office. That would be a disaster of epic proportion," she says.
She doesn't seem taken by flights of fancy and appears to have a practical head on her shoulders. "I'm not sure what my hopes are for the future. I haven't figured it out yet. Ask me in 10 years and I might have a better idea."
Lowdown
Who: Scarlett Johansson
What: New film, family drama We Bought A Zoo with Matt Damon, based on Benjamin Mee's memoir.
When: Out now
-TimeOut