It wasn't just about the Rugby World Cup and the royal wedding. 2011 was all about ...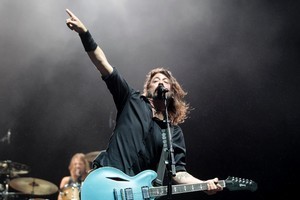 FOO FIGHTERS
One album, 11 songs, five stars from TimeOut, two shows, 2500 people at the Town Hall, $354,903 raised for Christchurch, 45,000 at Western Springs, a 165-minute show, 23 songs, three support acts, and 20 years since Nevermind.
EMMA STONE
She's the new girl in town who brought Ryan Gosling to his knees in Crazy, Stupid, Love, and also had a starring role in Easy A, but it was her performance as a young journalist taking on the white housewives and teaming up with the maids in The Help that earned her real praise.
3D ART HOUSE FILMS
No longer just the domain of CGI or blockbusters, this year documentary makers used 3D technology too. Wim Wenders brought us the gloriously adventurous dance-doco Pina, and Werner Herzog explored the world's oldest cave paintings in Cave of Forgotten Dreams.
HOT WHEELS
Those who risked their lives on the race track became more interesting film stars than those guys in The Fast and The Furious 11. Together with acclaimed doco Senna, about the Brazilian Formula One great, it was Isle of Man motorbike film TT3D: Closer to the Edge that delivered cinema's best G-Forces.
SOHO
They've been making some unmissable TV over in America, and we finally got to see it (legally). Glorious new HBO series like Treme and Game of Thrones, along with a new series of Boardwalk Empire and replays of Mad Men among others, filled the MySky planner all too quickly.
RYAN GOSLING
"Girls want to be with me, guys want to be me'' is a phrase Gosling could have used this year, though he's far too modest to do so. He can play the ukulele, do the Dirty Dancing routine, and drives like a demon ... in his movies anyway. In real life he just breaks up street fights. What a guy.
WEDDINGS
Two of the year's funniest films plied the rituals of hens nights, stag do's and weddings for their material, but managed to make them hilarious. While Hangover 2 wasn't quite as good as the original, the overly talented Kirsten Wiig knocked one outta the park with Bridesmaids.
MUSICAL LET-DOWNS
Red Hot Chili Peppers' I'm With You was limp and half-hearted, Coldplay's Mylo Xyloto wasn't much better, and who knows what Metallica and Lou Reed were thinking with Lulu, an ill-conceived and sometimes unlistenable waste.
NZ UNDERBELLY
It was New Zealand's turn to get in on the Underbelly act with Land of the Long Green Cloud telling the story of the "Real Mr Asia" Marty Johnstone, and then Kiwi actresses Danielle Cormack and Chelsie Preston Crayford were leading ladies in Australian-produced Underbelly: Razor.
ADELE
Forget auto-tune, guitar riffs or guest vocalists, this year's biggest song consisted of just one heartbroken voice and piano accompaniment. Smashing records all over, Adele was the voice of the year, charming audiences with her huge lung capacity, frank demeanour and Cockney accent.
HARRY POTTER
We've been watching Harry and his mates since 2001 and reading about them for even longer, so reaching the end of the story was a huge deal for a generation of Potter fans. Now we've got a whole lexicon of magical words that won't be used anymore, but at least the eighth film was a winner.
SPIELBERG
Steven Spielberg has been as ubiquitous as ever this year. He was busy making The Adventures of Tintin: The Secret of the Unicorn and new TV show Terra Nova, as well as a cameo in Simon Pegg's alien comedy Paul, while also producing the excellent Super 8, which was like a cover version of all his best old movies.
NORSE GODS
While Thor (played by Chris Hemsworth) conducted himself with the swagger and poise befitting a Norse God in Kenneth Branagh's superhero film, the local lads from The Almighty Johnsons provided many laughs as they bumbled their way through life in a neverending struggle to get to grips with their godliness.
DOWNTON ABBEY
In an era when British TV has brought us such classics as My Big Fat Gypsy Wedding, Downton Abbey brought a touch of class and some much needed black humour to the screen, doing her majesty proud with its upstairs-downstairs war time dramas. The aristocracy had it's moments, eh what?
DAVID GUETTA CALVIN HARRIS
These dance music boffins and their incessant - some might say brainless - banging beats were at the pounding heart of the music charts. Guetta released single-laden fifth album Nothing But the Beat and Harris worked with two of 2011's biggest stars, Rihanna and LMFAO.
- TimeOut