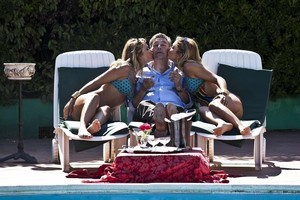 Equal parts Fellini and Woody Allen, Di Gregorio's follow-up to 2009's Mid-August Lunch doesn't have quite the same freshness - it's slightly less compact, despite its short running time - and is more contrived than the earlier film.
But it's a deliciously wistful and self-deprecating take on the age-old reality that men seem to get a new blast of libido just when (and doubtless because) they are getting too old to be attractive anymore.
As in the first film, the director takes the lead role. His character, bearing his own name, is barely distinguishable from that in Mid-August Lunch, in which he played a careworn 50-something Roman reluctantly stuck with looking after a quartet of ancient ladies during the summer long weekend.
Now Gianni's closer to 60 than 50 and still put-upon. In uneasy retirement, he shares an apartment and a passionless marriage with his wife (Piccolomini), daughter (played by his real-life daughter Teresa) and her slacker boyfriend.
Worse, he is at the beck and call of his gaudily painted mother (the magnificent nonagenarian Bendoni, who was his mum last time) who is quickly spending the inheritance on champagne and summons him day and night on urgent missions like adjusting her TV aerial. Certainly his life is lacking the taste suggested by the English title.
His mate Alfonso (Santagata) urges him to start chasing other women but his ventures in that regard - with his mother's live-in housekeeper; with a flirty, flighty neighbour; with the opera-singing daughter of one of his mum's poker mates - only serve to underline the encroaching invisibility that accompanies middle age.
The film is replete with cultural references that are very specifically Italian but it cleverly inverts the old wish-fulfilling cliches about the middle-aged man pulling the birds that is Hollywood's stock fantasy.
Shooting in his local neighbourhood of Trastevere (most of the last film was shot in his own apartment), he creates a set of characters and situations that are entirely believable yet just sufficiently enlarged to have comic impact.
Di Gregorio, who contorts his hangdog face to hilarious effect when trying to hide what we know he is feeling, is again perfect in the main role. It's a pleasure to see a comedy that takes real lives seriously and has a lot of fun in the process.
Stars: 3.5/5
Cast: Gianni Di Gregorio, Valeria de Franciscis Bendoni, Teresa Di Gregorio, Elisabetta Piccolomini, Alfonso Santagata
Director: Gianni Di Gregorio
Running time: 89 mins
Rating: M (drug use). In Italian with English subtitles
Verdict: Middle-age dread
- TimeOut