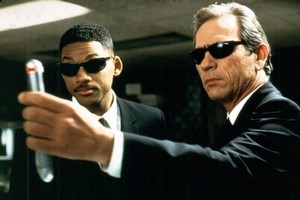 Here come the Men In Black - again.
A new trailer for Men In Black III, starring New Zealand actor Jemaine Clement as the villain Boris, has debuted online.
The trailer, for the third addition in the Men In Black series and first since 2002's derided second film, is again directed by Barry Sonnenfeld and reunites stars Will Smith and Tommy Lee Jones in their extraterrestrial comedy caper series.
Men In Black III also stars Josh Brolin, Alice Eve, Emma Thompson, Bill Hader and Rip Torn, and the plot appears to involve time travel. It has been filmed in 3D.
The trailer offers only a brief glimpse of Clement, one of several villains that terrorises Smith and Jones in the film, at around the 20-second mark.
Boris is described as "charmy and creepy at the same time".
Men In Black III is due to hit New Zealand cinemas on May 24.
Check out the trailer for Men In Black III:
- Herald online