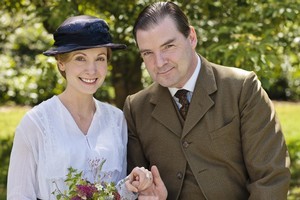 Five Weddings and a Funeral they should've called it, and not just because Elizabeth McGovern (Cora) looks a lot like Andie MacDowell. Not all of the nuptials in Downton Abbey's second series went ahead of course. That would have been far too silly. No, Tuesday night's finale was restrained, realistic and not at all melodramatic.
In the spirit of the show, I'd like to retract that, rewrite it, change tack. The plot was as sane as Bates' ex-wife. He finally married Anna, and was then charged with murder. Lady Sybil announced her intention to marry the chauffeur, incensing her father Lord Grantham, who'd just started an affair with a housemaid. Daisy continued to rue her decision to marry William while he was on his death bed. Lady Mary and Sir Richard discussed their wedding, after he paid off Bates' ex-wife (pre-suicide) for the scandalous story involving the Turk who carked it in Mary's bed back in series one. Lavinia kicked the bucket a few days before she was due to marry Matthew, who she'd just seen kissing Mary. She died of the Spanish flu, and a broken heart. Either that or she couldn't keep up with the script. I almost expected Carson and Mrs Hughes to take a trip down the aisle. Maybe they're saving that for series three.
There's no doubt about it - Downton's creator and head writer Julian Fellowes is one clever fellow indeed. He's created a monster with more twists and turns than Coronation Street, a posh soap opera where part of the fun is watching the interactions between the upstairs and the downstairs folk, the rivalries and the friendships, all played out this season within the context of war, which had its own intriguing bearing on the house's social hierarchy.
But Lord almighty, was there plot or what? On one hand it's admirable how the storylines intersected. On the other, its extreme nature meant you couldn't just rush to the toilet in case you'd miss someone dying, getting arrested or becoming engaged. The finale was thrilling one minute, ridiculous the next. Cora started off fit then gradually succumbed to illness until she was writhing on the bed. What could make things worse for her? (This is what I imagine the writers thinking.) How about having the good Earl completely change character and develop feelings for the pretty new maid? No one saw that coming, except for those who spotted the careful disintegration of his marriage about two episodes back. Then within the space of a few scenes, Cora became well again and the pretty maid was gone. It was a bit like the disfigured Canadian who returned to the house in one recent episode, only to disappear again. At least until Carson and Mrs Hughes' wedding.
What will I miss the most about this elegant, witty, absurd show? Thomas' constant smoking and scheming. Lady Mary's incredible gowns. The Dowager Countess' tactless asides: "Wasn't there a masked ball in Paris when cholera broke out?" she said as the flu wiped out several in the house. "Half the guests were dead before they left the ballroom." Downton Abbey is a bit like her, really. High class, bold to the point of rudeness and very entertaining.
-TImeOut