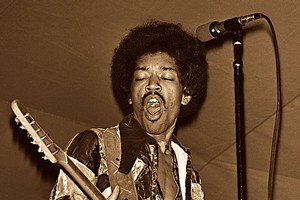 Jimi Hendrix has been named as the greatest guitar player of all time.
He topped a poll for Rolling Stone magazine which said he had "exploded our idea of what rock music could be".
British guitarists took the next four places, with Eric Clapton the runner-up.
Hendrix was able to manipulate his instrument like nobody before or since, but it was only after winning the admiration of Clapton, Jeff Beck and others while he was in London in 1966 that the American really became a star.
The panel of experts recruited to vote for their favourite guitar players included musicians such as Lenny Kravitz, Eddie Van Halen and Brian May, along with a number of Rolling Stone's senior writers and editors.
The top 10:
1. Jimi Hendrix
2. Eric Clapton
3. Jimmy Page
4. Keith Richards
5. Jeff Beck
6. BB King
7. Chuck Berry
8. Eddie Van Halen
9. Duane Allman
10. Pete Townshend
- Daily Mail