A column in which Duncan Greive scours the world's charts in the hope of finding, if not the perfect beat, then something worth whistling at least.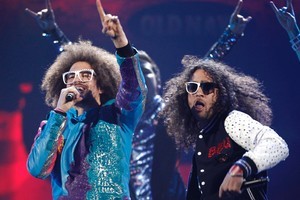 The Locals
This week an election which has managed the rare feat of being simultaneously infantile, tedious and depressing is drawing to a close. It seemed a worthwhile time to check in with Wellington's student station, Radio Active.
The Top 11 (wacky students!) is amiable enough, featuring a bunch of recent indie-ish noises. But it's not particularly politicised, given that they're located a few hundred metres from the Beehive.
Not that there's been a vast amount of partisan music to wade through - as far as I can tell we've only had The Eversons' enjoyably silly Vote For ACT and the earnest remonstrations of Home Brew, Tourettes and Matthew Crawley's Listen to Us. The latter is top five in the bFM Top Ten, and each deserves more airtime than our elected officials. Or Death in Vegas.
Radio Active Top 11
1. David Lynch ft. Karen O - Pinky's Dream
2. Cults - Abducted
3. Glass Vaults - Gold Star
4. D:UNK - Floor You
5. Badd Energy - Third Eye
6. Phantogram - Don't Move
7. Sin Sin - Sorry But I'm Falling Down Again
8. Death in Vegas - Your Loft
9. M83 - Midnight City
10. Jon Lemmon - Exodus
11. Wu Lyf - We Bros
The World
Sadly last week marked the end of the reign of Silvio Berlusconi, Italy's charismatic Prime Minister. Prior to him, Italy had been through dozens of short-lived leaders, but Berlusconi seemed to epitomise the corrupt, lascivious spirit of Italy, and held in there for 17 years. Now he's been replaced by Mario Monti, an economist with an italo-disco-esque name, who is universally described as a 'technocrat' - surely one of the last great unclaimed band names?
Italy's charts the week Berlusconi vacated his office had a bunch of the worldwide blando hits, along with some local produce of rare absurdity. Tizanio Ferro might be the most handsome man in the world - his La Differenza Tra Me E Te is as tough and gritty as Bruno Mars' Just the Way You Are, but with significantly less trilby, so a lot more fun.
Personally I'm more into Jovanotti's La Notta Dei Desideri, a wistfully thumping synth-pop banger featuring lyrics about how Jovanotti sees "a swirl of coloured people/ Flocking around an elementary rhythm"... Continental Europe, home of dodgy politics for well over 2000 years.
Hitlist Italia
1. Adele - Someone Like You
2. Tiziano Ferro - La Differenza Tra Me E Te
3. David Guetta ft. Usher - Without You
4. Maroon 5 ft. Christina Aguilera - Moves Like Jagger
5. Rihanna - We Found Love
6. Coldplay - Paradise
7. Jovanotti - La Notte Dei Desideri
8. James Morrison - I Won't Let You Go
9. Laura Pausini - Benvenuto
10. Negrita - Brucerò Per Te
The 'Net
These are the songs that the rest of the internet is most excited about. New Zealanders are no longer represented - post the 'Copyright (Infringing File Sharing) Amendment Bill', we have to suffer the indignity of waiting 20 seconds and messing around with 4shared, Mediafire and the rest. The list is a pretty handy 'state of pop' primer if you've been dead in 2011, with the best single of the year at the top, and the globalisation of the market being reflected in its 30% non-US composition. More pertinent, perhaps, is the absence of 'career artists' - of the 17 featured here, only Jennifer Lopez, Kanye West and Lil Wayne were truly established five years or so ago. The charts always had their share of fly-by-nights, but that now seems by far the dominant archetype.
Pirate Bay Singles
1. LMFAO - Party Rock Anthem
2. Jennifer Lopez ft. Pitbull - On The Floor
3. David Guetta ft. Nicki Minaj & Flo Rida - Where Them Girls At
4. Cobra Starship ft. Sabi - You Make Me Feel...
5. Pitbull ft. Marc Anthony - Rain Over Me
6. Kelly Rowland ft. Lil Wayne - Motivation
7. Nicki Minaj - Super Bass
8. Adele - Someone Like You
9. Katy Perry ft. Kanye West - E.T.
10. Jessie J ft. B.o.B - Price Tag