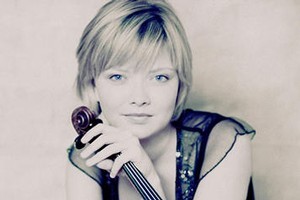 Auckland Philharmonia Orchestra promised Russian Fire on Thursday and the promise was delivered. Rimsky-Korsakov's Sadko is unlikely to grace our opera stages any time soon, but the composer obligingly compressed its fanciful fairy tale into a 12-minute orchestral "musical tableau" which opened the concert.
The Russian took pains to acknowledge the influences of all his contemporaries on this music, but today we're more likely to hear premonitions of his pupil Stravinsky - especially when Eckehard Stier swept the orchestra towards a shattering chord that could have come from Sacre.
Shostakovich's First Violin Concerto is no easy listen.
Written during what must have seemed an eternal Stalinist winter, its mournful melodies sear and its romps are triple-edged.
Alina Ibragimova was an inspired soloist; her poignant lines not afraid to test the limits of audibility in the opening Nocturne, fearless as the orchestra stalked around her.
In the Passacaglia her instrument sang with renewed passion, weaving one of the composer's most lyrical melodies against clarinet and bassoon. The great, merciless cadenza brought forth a performance of harrowing intensity.
Any humour was of the sardonic variety. Soloist and orchestra played parry and thrust in the spiky, bitter Scherzo and the surface cheer of the circusy Burlesque was chillingly equivocal.
Ibragimova's beautifully considered encore of Bach's D minor Sarabande was intriguingly lighter and more whimsical than her 2009 recording.
After the interval, the orchestra gave its first account of Stravinsky's 1945 version of The Firebird in almost 20 years.
The players were at full tilt. The opening was all mystery and anticipation, the Firebird fluttered and flickered, some of the audience around me jumped at the ferocity of Kashchei's first chord and a breathtaking close reminded one that the movement's original title is Final Hymn.
This version came with appreciated extras, including miniature Pantomimes, the quirky orchestrations of which seemed rather a propos on the birthday of Carl Stalling, the man whose inventive scurrying music was a hallmark of so many classic Hollywood cartoons. Hindemith was certainly an admirer of Walt Disney, and I would imagine that in his time, Stravinsky may well have chuckled at Stalling's screen scamperings.
Concert
What: Auckland Philharmonia Orchestra.
Where: Auckland Town Hall.Soloist Alina Ibragimova.