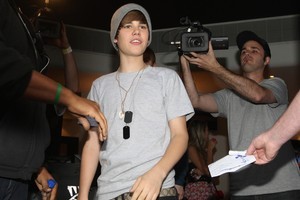 Justin Bieber was not listed as the father on the birth certificate of the baby he allegedly fathered with a fan.
Mariah Yeater put her name under the section marked 'mother' but left blank the part of the form where the father's details should have been.
Four months on, she has now claimed the child belongs to the 17-year-old pop singer and has filed a lawsuit demanding a DNA test and financial support.
The disclosure came after it emerged that Miss Yeater, 20, is receiving death threats from obsessed Bieber fans, known as 'Beliebers'.
One message posted by a fan on Twitter said: 'Dear Mariah Yeater, Roses are red, violets are blue, stay away from Bieber or Beliebers will kill you.'
They have also begun circulating pictures on the internet showing her looking dishevelled and posing topless. Miss Yeater has claimed that Bieber, a devout Christian, confessed to being a virgin before having sex with her in a toilet after a show at the Staples Centre in Los Angeles on October 25 last year.
The former clerk claims Bieber is now ignoring her pleas to support her three-month-old son Tristyn Anthony.
Canadian Bieber, who is currently dating actress Selena Gomez, 19, has tweeted that he wants to "ignore the rumours and focus on what is real". His representatives have branded Miss Yeater's lawsuit "malicious, defamatory and demonstrably false".
However, her lawyers said they have 'credible' evidence and will fight until Bieber agrees to a DNA test.
- The Daily Mail