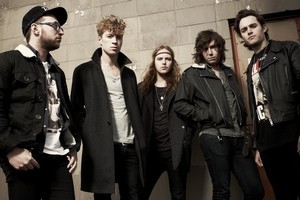 They want to be big. They want to be huge. Midnight Youth are trying so hard to become New Zealand's biggest rock band you can almost see it etched into their foreheads.
It's an admirable attitude, albeit one that sets them up as tall poppy targets. But it took them far on their first album, 2009's The Brave Don't Run, with its radio-friendly hooks and rousing choruses designed to be sung by the masses.
Several singles, like All on Our Own and Cavalry, were inescapable, repeating endlessly on commercial radio, behind advertising jingles and blasting around stadiums during the Rugby World Cup.
Judging by the band's bolder second album, arenas are exactly where Midnight Youth want their music to be heard.
World Comes Calling is a bigger-in-sound, grander-in-scope record that pushes every button marked "epic" that it can find.
It also wears its influences on its sleeve, with the 80s bombast of Def Leppard and Bon Jovi colliding with 90s rock and more modern stadium-fillers like Coldplay and Kings of Leon.
And with a guitar solo in almost every song (two in Down Inside's grunty grunge theatrics), lead axeman Simon Oscroft seems to be making quite a case for bringing back the lost art form.
So Midnight Youth could be accused of being simple copycat revisionists - if they didn't have the songs to back themselves up.
But World Comes Calling comes front-loaded with five beautifully produced tracks that don't muck around in delivering pure audio adrenaline and will be among the best rock songs released by a Kiwi band this year.
Opener The Street is a wide-sweeping grand statement with We Will Rock You-style kickdrums that proves front man Jeremy Redmore is gaining in confidence, while Come One Come All mixes deft melodic touches with chugging riffs in all the right spots.
Best of all is the cocky blues-stomp of Won't Stop that kicks off like Elbow's Grounds For Divorce but heads into overdrive at the two minute mark, ending with a flurry of rock rage.
And if you can forgive the cheesy punk refrains of the otherwise excellent first single Who Says You're Free, you'll find plenty of aggressive thrills to be had.
The first half of World Comes Calling is so good it's no surprise the second can't match it, with tracks like the overblown French Girl and the title track straining a little too hard to hit their target markets.
But if World Comes Calling falls short of its lofty ambitions, that's only because it's aiming so damned high.
Take it easy boys, and let your progression happen naturally - then the world really could come calling for you.
Stars: 4/5
Verdict: Bigger, bolder second album nearly hits a home run.
Buy the album here.
-TimeOut