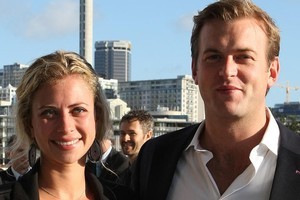 Two British darlings and two very different Auckland transport tales. Holly Branson, the 30-year-old daughter of billionaire Virgin founder, Sir Richard Branson, went to Waiheke on Monday with her fiancé Freddie Andrews. The pair had cheered the All Blacks at the Queen St parade before boarding a Sealegs amphibious craft across the Hauraki Gulf bound for Stonyridge Vineyard.
Meanwhile, fellow Brit Elizabeth Emanuel, who famously designed Princess Diana's wedding dress in 1982, told Spy she was horrified when an officious organiser told her to catch the bus to an event last week, despite not knowing Auckland. She didn't. She had the sense to call a cab instead of trying to navigate her way around town on public transport by herself.
Emanuel's visit coincided with the Branson clan's trip Downunder. Their paths first crossed 22 years ago when the fashion designer was commissioned to make the wedding outfits for Richard, Joan and their children.
It was Branson's second marriage and he arrived at the ceremony dangling from a helicopter. Two years later, he asked Elizabeth to design a range of Virgin Airline uniforms, as well as luggage and accessories.
It hasn't been a life of designer duds and privilege for Freddie, who's marrying into the billionaire family next month. His dad is retired and his mum is a schoolteacher. He presented Holly with a pink sapphire engagement ring. When our mole asked if he meant a pink diamond, Freddie said: "No, it's a sapphire. I couldn't afford a £2m ring." But you could just pretend it's a diamond, our mole joked. Holly replied innocently: "Mummy has a pink diamond and she would know it's not real."
Her dad, at least, was playing it down-to-earth at the Kentish Tavern in Waiuku - the hometown of AB hero Stephen Donald. Locals say he's certainly the first billionaire to drink there and probably the first man to have had plastic surgery to drink there. And he is most certainly in the very low percentile of Kentish visitors with no assault conviction to their name.
Brown Jesus' tour of duty
New Zealand's most self-acclaimed war correspondent shared his knowledge of reporting from the trenches at a forum in Manila this month. The New Zealand Embassy in the Philippines said Mike McRoberts spoke at a regional media conference for the International Committee of the Red Cross "on the safety of journalists in conflict zones".
He also plugged his bible. His speech notes liberally refer to his autobiography and lessons he has learned from the frontline. It's the Word of Mike in Times of War and here's one little gem: "Absorb and use the lessons learned by others wisely, but know the best person to look after you, is you."
Spoken like a true News Saviour.
Three wine men
Famed British wine writer and broadcaster, Oz Clarke, was Spy-ed whiling away the afternoon on Monday at Waiheke's best-kept secret: Man O' War's new wine cellar, which opens next month. With him was fellow Brit Charles Metcalfe and Joe Czerwinski from the States, who join the international judging panel at the Air New Zealand Wine Awards. The three wine men were last seen waxing lyrical about Man O' War before boarding a private chopper back to the mainland. Tough day at the office.
Another Kiwi starlet bats lashes at Richie
Last week we heard Richie McCaw was in a blossoming romance with Go Girls star Anna Hutchison, but this week comes news the World champ has been exchanging flirty texts with soprano Elizabeth Marvelly. The Rotorua beauty told The Edge's Brad and Marty that McCaw flirts with her via phone.
"Um, he's a really lovely guy... and, um, yeah, okay, so I text him and said good luck and he was like, 'Oh, yeah, cool," Marvelly said on the radio show. Asked if that meant they would meet up for a drink afterwards, Marvelly responded with equal clarity: "I think we're just like... I dunno... maybe". Then she giggled like a schoolgirl.
She said McCaw's texts weren't scandalous but she was excited he was texting her. "Yeah, it's kinda crazy," she squealed in delight. So, is there romance? "Um, nah," Marvelly said unconvincingly. "Um, I mean, I just think he's a top guy... and he did a really good job in the World Cup."
McCaw may have suffered a case of eye gouging at the hands of the French, but New Zealand's most eligible bachelor should be wary of manicured claws if he is to keep playing text chat with two pretty young starlets both vying for his attention.