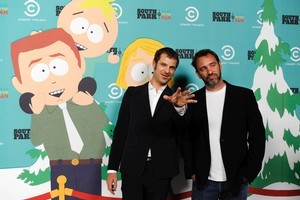 It's been one hell of a year for South Park's creators Matt Stone and Trey Parker. They scooped nine Tony Awards for their hit Broadway musical The Book Of Mormon, and their irreverent animated series South Park, returning to Comedy Central tomorrow with a making-of documentary, marks 15 years on air. But success doesn't mean these comic master-minds appear to have matured, as Stone reveals.
How do you keep stories interesting and new this many seasons in?
We have been on the air since 1997, since Bill Clinton was president, since the beginning of the internet. You think how much the world has changed. I'm 40 now and when we started, I was 27. You just discover new things as you get older. And Trey and I love a good fart joke, so some things stay the same. (Laughs.)
Who are your favourite South Park characters of all time, and why?
My personal answer is probably the same as most people's: Cartman. It's a really hard thing to create a character that has that many contradictions, but that's how a lot of great characters are ... on paper. But once you hear Trey do the voice, it's so much richer. It makes them [the contradictions] that much more real.
Your show has revolved around 9-year-olds for 15 years. Do you feel this has helped keep you young?
Ah, we take our Omega-3s, we go on runs, and we make fart jokes. I don't have research to back this up, but I think there is something about making fart jokes. Or maybe we just feel young.
How does it feel to know that people all over the world can quote your show?
It's trippy. It's really, really, trippy. It's a strange feeling to get on a plane and go across time zones, land in a different country, and have someone know who your characters are.
Does the knowledge that South Park has such a strong international fan base affect your choice of storyline?
It's not something we think about. I think we do the show on what we think is funny and what people in the building and our immediate friends think is funny.
What predictions would you make about the future of South Park?
I have no predictions. South Park has been so much more successful than we ever thought it would be that we are in a gravy time. We're just getting through the season, and enjoying it while we can.
6 Days To Air: The Making Of South Park debuts on Sky Comedy Central (digital channel 015) tomorrow at 7.30pm. New episodes at 8.30pm.