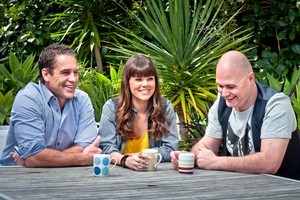 Supermodel Linda Evangelista once vowed she'd never get out of bed for less than $10K a day. Now Marc Ellis, who reportedly raked in over $18 million for his 14 per cent share of Charlie's Group, will be getting out of bed at 5am each day to front More FM's new breakfast show presumably for less.
Ellis will be joined by former MTV host Amber Peebles and radio announcer Stu Tolan on More FM breakfast from November 7.
They replace the current team of Joe Cotton, Peter Dakin and Jeremy Corbett whose last show aired on Friday. Clarke Gayford and Jennifer Bainbridge will fill in for two weeks before Marc, Amber and Stu take the helm.
Securing someone of Ellis' celebrity stature is a big coup for the revamped station. Ellis, let's face it, doesn't need the money or the hassle of early morning rises, but he said breakfast radio will be an exciting new challenge.
"I really enjoyed hosting More FM breakfast a few months back and thought I wouldn't mind doing this each day. I'm a morning person and finishing radio mid morning allows the remainder of the day to work in and on my other businesses and projects.
"It certainly was fun spinning a few yarns in the morning and I'm looking forward to getting this thing up and running in November," he said.
Ellis' loveable larrikin TV persona is beloved by Kiwis around the country. There's no denying he'll be a major threat to More's competition: ZM's breakfast show with Polly Gillespie and Grant Kereama at rival TRN. But it will be interesting to see if listeners from fellow MediaWorks stations The Rock and The Edge switch frequencies to tune in.
MediaWorks Radio Group Programme Director, Andrew Szusterman, knows securing Ellis is a big win for the company. "If there is one guy who was made for radio it's Marc. As a company we're really excited he's coming to work with us, and matching him up with Amber and Stu will no doubt see a shakeup of Auckland breakfast radio."
Paul Henry has revamped RadioLive's ratings and his upcoming TV3 show, set to air in the new year, is likely to increase ratings for the network too. Now that Ellis is a firm fixture with the MediaWorks family, can we expect him to switch television networks and pop up on TV3 too?
I understand his radio contract is yet to include any television commitments, but Ellis is obviously commercially astute. Surely it will be only a matter of time before he wants to take his funny guy brand to the TV channel renowned for Kiwi comedy.