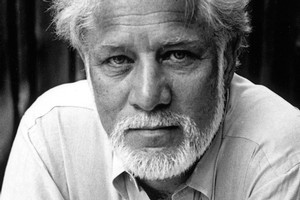 The further I get into my October feature read, the more I'm wondering about the lines between fact and fiction.
The author's note declares The Cat's Table to be a work of fiction, but the parallels with author Michael Ondaatje's life blaze like a ship's beacon.
Ondaatje travelled unaccompanied by ocean liner from Ceylon to the United Kingdom at the same age as the protagonist Michael, known as Mynah.
The adult Mynah goes on to be a writer, and emigrates from the United Kingdom to Canada, just as Ondaatje did.
In this week's Q&A, Ondaatje says such similarities forced him to make Mynah's character different from his own, but I also get the feeling that teasing the reader now and then is all part of the fun.
Ondaatje also clears up a few oft-repeated myths about his writing methods.
Although The Cat's Table is fictional, you undertook a similar unaccompanied voyage at the age of 11. At what point did that trip turn into an idea for a novel?
It turned into a novel about 50 years later when I was talking to my grown up children about how I was sent off to England alone on a ship - and they were somewhat appalled, as I suddenly was! And as I did not really remember much of the journey I decided to invent it, improvise off the situation, and make it an adventure
For the three boys in the novel, the voyage provides both an opportunity for freedom and a vehicle for transition and change. How significant was your own voyage, both at the time and subsequently?
Again I don't really recall much of it, but the germ of the possibility of what could occur - the dangers, the adventures, the damage, the thrill of it all, and what it might do to these children in the future was where I took this invented story.
Given that the story is fictional, why did you give the main character your own first name, Michael?
That was a surprise when I decided to do that, even to me. But the minute I did it, it somehow it allowed me to see the boy as someone fictional, ie he now had to be DIFFERENT from me. He had to now grow into a fictional character, so he altered the way the other boys grew and altered
You're known for writing your books in the place in which they are set. Where did you write this book and how did you create the setting of a 1950s liner?
Actually that is a rumour that got started and is not true. Mostly I wrote it in a cabin at a farm in California, or in my small study in Toronto. Nowhere near water! I studied the cross sections of many ship diagrams and I would talked to complete strangers about their sea journeys whenever I happened to meet them. All they remembered were things like that was where they first had ginger ale or a peach melba! Nothing really important.
The book features a host of eccentric and entertaining characters. Which character did you most enjoy writing and why?
I loved the discovering of Miss Lasqueti. But really I loved them all, minor and major, save for Mr Giggs.
With previous novels you've said that you like to write the story first and then impose the structure. Was that the case with The Cat's Table and were there any significant parts of the original story that had to be cut during the editing process?
Again that is not quite what I do. I discover the story in the first draft and sometimes I might move a few pieces back and forth, as if moving the furniture in a room. But in fact this story landed in its form pretty much the way it now lies. Though there was lot of editing and rewriting and fine tuning. I knew it was going to be a tight book so there were not too many scenes that got chopped. Scenes got shorter. There was a bit more on Cassius, but I sort of needed him to disappear in a way and just be a rumour in the last half, so that got dropped. He is stronger by his absence.
The 2011 Man Booker prize was announced this week. As a previous winner, what impact has this prize had on your writing career?
Well it allowed me a great freedom to write full time. That was the best gift.
Who are your favourite writers?
Too many to mention Robert Creeley, John Berger. Patrick Leigh Fermor, Mavis Gallant, WG Sebald, Sam Selvon, CD Wright, and a hundred others. Fermor and Gallant and Sebald are truly amazing. If you ask me tomorrow I will have another list.
What are you currently reading?
I just reread Lucky Jim in fact. And the first two-thirds of it is still hilarious. David Malouf's Ransom - for the second time. And I am reading a book called Forge, which is the poetry of Jan Zwicky, a very fine Canadian poet.
- Herald online