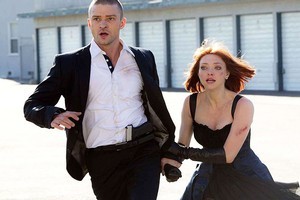 Years before he made the world think with the provocative 1997 science fiction film Gattaca and 1998's Oscar-nominated satirical comedy The Truman Show, New Zealand writer-director Andrew Niccol flew to New York and caught the subway into Manhattan.
He stepped off the train when it reached one of the underground mid-town Manhattan stations and walked shoulder-to-shoulder with other commuters up multiple staircases to the metropolis above.
Niccol grew up a world away in the New Zealand beach town of Paraparaumu, but instantly fell in love with the concrete jungle of New York.
"I come from the most beautiful, green place on Earth," Niccol, 47, recalled in an interview at a Los Angeles hotel on Saturday while promoting his new science-fiction thriller, In Time.
"But I popped up in mid-town and went 'Ah, this is fantastic. It is concrete.
This is me'."
With continued success, including the Steven Spielberg-directed, Tom Hanks-starring comedy-drama The Terminal and the Nicolas Cage-starring action-drama Lord of War, Niccol has created a bank account big enough to live his dream.
He has a home with Canadian-born Sports Illustrated swimsuit model wife Rachel Roberts in the desired lower Manhattan neighbourhood of Tribeca.
They also have a house in Malibu, California.
"I have become this cliche - Malibu and Manhattan are the only the places I want to live," Niccol, who regularly travels back to New Zealand to visit family and friends, says.
Niccol's films are often set in the future, but place a microscope on ethics and modern day social and political issues.
His movies are also designed to entertain the masses.
Gattaca (starring Ethan Hawke, Uma Thurman and Jude Law) created debate about tampering with human genetics. The Truman Show, written and produced by Niccol, starring Jim Carrey and directed by Australia's Peter Weir, sparked religious and psychological debate and became a catalyst for reality TV, with the show Big Brother making its debut a year after the movie's release.
2002's S1mone, starring Al Pacino and Roberts, examined the use of technology and pondered whether human actors could be replaced by computer generated characters.
In Time, starring Justin Timberlake and Amanda Seyfried, is set in the future where the rich and poor are segregated. The currency is not dollars and cents, but time, and no matter how old people get, they appear as though they are 25-years-old.
The film's release comes as the Occupy Wall Street movement, protesting corporate greed and social and economic inequality, spreads across the globe's financial centres.
"Yeah, I started all of those riots myself to promote the movie," Niccol chuckles.
The convergence of In Time with real world events came as no surprise to Timberlake, who was sucked in by Niccol's provocative viewpoint from the first page of the script.
"Andrew does that with his films," Timberlake says.
"He has a way of turning the mirror on us and uses fantastical concepts to do that.
"When I first read the script I saw that concept immediately. I think it is quite serendipitous with all that's going on right now with the economy and class system. There really isn't a middle class anymore."
With film financing drying up and studios cautious about making films from original scripts, directors and producers regularly complain about the difficulty they face in getting a movie project green-lit.
Niccol did not have that problem.
The film, with popular Timberlake and Seyfried in the lead roles, was tailor-made for teenage and twenty something audiences, but also had a sophisticated storyline that would appeal to more mature audiences.
"This movie? No," he replies when asked if it was difficult to get In Time made.
"There's no character over the age of 25 and there's a ticking clock in every scene.
"You know it is going to be green-lit. You don't even have to read the script. It's like 'Where do I sign?'."
Timberlake plays Will Salas, a resident of slum area, while Seyfried is Sylvia Weiss, the daughter of one of the richest men on Earth.
The two meet up and then work together to bring down the system that is designed to make the rich richer and live for hundreds of years while keeping the poor in poverty and with little chance of reaching their 30th birthdays.
One of the biggest brick walls Niccol had to overcome was to convince the studio Seyfried should wear a red bob wig in the film.
"The studio said 'You want to change her hair? We bought a blonde. C'mon,' Niccol recalls.
"Someone literally said that to me - we bought a blonde.
"I said 'No, she's going to look more modern and take her away from those other roles (Mamma Mia! and Dear John) because she was always the girl next door.
"I wanted her to be more sophisticated."
* In Time hits New Zealand cinemas on October 27.
Check out the trailer for In Time:
- AAP