As she readies herself to headline the pre-final show at Queens Wharf, Gin Wigmore talks to Lydia Jenkin about following up her breakthrough debut 'Holy Smoke' with a fiery second album.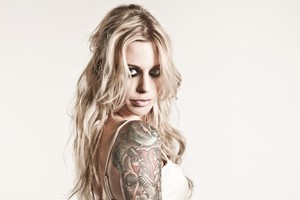 Twenty-five-year-old Gin Wigmore has been wondering if she's become a little boring in the past two years.
New Zealand's favourite feisty blonde singer has bought a house in Sydney, and is getting all domestically blissed out making a wee nest for herself.
"I've been thinking, 'Am I lame now?' I'm doing home improvements and stuff. I've been doing things like going to Bunnings to buy screws, and going, 'ah, I'm such a loser', but then get home and go, well I actually f***ing need those screws. And I've put in a vege patch, and been doing some gardening which is hilarious. Definitely not getting married or having kids any time soon though, having a house is enough."
It is an odd picture - the raucous, and often hilarious party girl enjoying some quiet pottering in the garden; one that's a million miles from the image of her as a single-minded recording artist working in a Venice Beach studio, or an adventurous soul travelling Mississippi and Alabama looking for inspiration.
But Gin's not one to conform to expectations, as she clearly intimates on first single Black Sheep from her upcoming album Gravel & Wine, singing "everyboy's doing it, so why the hell should I?"
"It's meant to be a fun song. It's a play on words, you know describing being different, but in a funny, lighthearted way. Being a black sheep is a way I would describe myself. And I had to have a sheep reference in there too, I'm a Kiwi girl at heart."
Having written her debut EP at 22, and her debut album Holy Smoke at 23 with the help of various co-writers, under the guidance of Motown Records, this latest album sees Gin revelling in a new sense of direction.
"The thing about this record is that I knew what I wanted.
"After listening to so much music over the last few years, I spent a bit of time, about two months down in Mississippi and Alabama, the real southern heart of America, just travelling and soaking things up."
Gravel & Wine definitely has a southern states feel, combining sassy day-of-the-dead mariachi attitude with chiming Americana guitar licks and classic piano riffs. She's taken an approach not many female solo artists pull off, remaining seductive and feminine while also delivering a stomping masculine strength.
"It's a powerful, sexy thing, with streaks of a man. The songs have a lot of men in them actually. Not just the musicians but all the backing vocals, apart from two I think, are a group of guys, that chain gang kind of sound of men singing, sounding raw and strong."
If you're thinking along the lines of Oh Brother Where Art Thou?, A Fistful Of Dollars, or even Deadwood then you get where Gin is coming from.
"I've been watching a lot of old films, film noir films, spooky, character films, and also spaghetti westerns, and I think I really want to be a cowboy. Quite seriously. I really do."
And yes she's actually pretty good in the saddle. "I'm quite good, or at least I think I am. That's what I'm going to do next, buy a ranch, and breed horses, and be a cowboy. F**k off music, I'm just gonna breed horses and go riding. Easy."
Even if she hasn't quite managed to become a real-life caricature just yet, Gin has embraced the notion of playing a character in her music, and all 11 tracks on Gravel & Wine are part of an overall story and aesthetic inspired by her time spent in the deep south.
"It's really interesting, you know, there's so much attitude in their spirit, and a bit of suppressed you know, 'f**king shit went down and we're pissed about it'.
"There's real persona, and it's fun. This feisty chick who's pissed about stuff, and had her heart broken and things."
Indeed on the eve of releasing Holy Smoke in 2009, she'd had her heart broken, and was optimistically looking at it as good source material for further songwriting.
"Absolutely, that was a bummer, that was a bad break-up, but I'm so glad we broke up. You know when you look back and go 'oh my God, that was such a f**king waste of time, what was I thinking'. But now I've met a new man who I'm utterly obsessed with, I love him. But it's kind of like, just the right amount as well. It's given me some good perspective on the last relationship, because it takes about a year for something to sink in. And all the stories and secrets that have been covered up and the lies, they take a while to come out, and you find out what actually happened, so there's a few songs about that. And you know, kind of about him seeing other ladies as well, that'll make you angry."
Happy Ever After is all about that ex not being the happy ever after that she thought he was, and Man Like That is something of a warning song, but Gin manages to keep the attitude confident and forward thinking rather than sliding into bitterness.
Once again she recorded the album in LA, though not at Capitol Studios this time, and she's swapped Ryan Adams' band The Cardinals for a band called The Black Widows.
"This was a much cheaper record! I recorded with Butch Walker as the producer, with Butch's band, down at Santa Monica beach for a month over summer, so that was great. Living in Venice Beach and soaking it up. Butch has his own studio which is very vibey and dark with fairy lights and old lamps and a cool old library feel. Capitol was great, but quite serious I guess, and this was a lot more relaxed and we could take our time, and record at funny hours."
Gin's heading back to New Zealand for the album release, and her first show will be right before the Rugby World Cup final in front of an estimated 12,000 punters at Queens Wharf in Auckland.
"I'm f**king nervous about it too. I'm really nervous, I'm really, really nervous, but it'll be great, and I think it'll be a real fun vibe down there that night. It's an honour to play on such a big occasion. The crowd is going to be insane. It'll be a milestone. I think we'll all have to drink whiskey and beer at the same time, and have a party."
She's keeping things a little more low-key for the rest of her national tour though, opting to play smaller venues, because she doesn't want to assume any popularity on the basis of her previous album (which sold close to 75,000 copies in NZ). Unassuming doesn't mean it won't be one heck of a show though. She's even hired a completely new band of Kiwis for the occasion - Wayne Bell on drums, Marcus Lawson on bass and keys, Matthias Jordan on keys and vocals, and both Brett Adams and Dave Goodison on guitar.
"They're all older dudes, really cool amazing musicians, and kind of have that kind of old school glamour vibe, you know like the old bandstand shows in the 60s - slightly dorkily serious, well dressed in suits, and it's great, they'll love it. I want to make an impression, to make it a big deal. There won't be any ball gowns, but this is our night, so I want to get dressed up, and wear nice underwear. If you think of someone like Etta James and her band, they've made an effort, they're not just in jeans and a T-shirt."
She's got standards, has Gin, and they're all in keeping with her plan to be in this game for the long haul.
"I want a long career in music so you've gotta keep trying things out; it's gotta get progressively better. I don't know if I've become a better cook or a better lover over the past two years, but I know I've become a better musician."
LOWDOWN
Who: Gin Wigmore
New album: Gravel & Wine, out November 7
Debut album: Holy Smoke (2009)
Live: Performing at Queens Wharf on Sunday (pre-RWC final), and touring nationally from October 28 to November 5, playing at the Kings Arms in Auckland on November 1. Also playing the Big Day Out on January 21.
- TimeOut