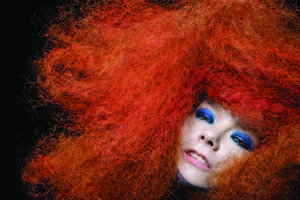 Quite when one might listen to Bjork's eighth album is hard to figure - apart from when you get the chance to lock yourself away in seclusion so you can appreciate Biophilia's mighty feat of sonic beauty and its many elaborate layers. Perhaps while you are floating in space would be best.
Or maybe when you are off in your own little wonder world.
So, it seems, it's mission accomplished then for the lovable music maverick from Iceland. On the follow-up to Volta from 2007 she has once again managed to conjure up something demanding, and often confounding, with songs sometimes wafting aimlessly along, yet the overall impact is utterly stunning and intoxicating.
Also, not content to just push musical boundaries, Biophilia, is a multimedia musical experience. In case you haven't heard, it is released as 10 apps - one for each of the 10 tracks - allowing fans to delve inside the songs and interact with them.
Well, that's the idea anyway. But don't panic, because if you are up for the challenge of the album, it is also available in conventional formats. Phew.
And beyond the technology and gimmicks, the true beauty of Biophilia is simply the songs themselves.
Apart from the odd breakouts into glitchy and fractured beats, like on Mutual Core with its industrial strength pitter-patter, it is predominantly made up of layer upon layer of electronic sounds and instruments, from wind chimes and pendulums through to choral singing and Bjork's lovely, otherworldly lilt.
On it she explores nature ("like a mushroom on a tree trunk as the protein transmutates ..." she sings on Virus), geology, and, as you'd expect being from Iceland, volcanoes on Mutual Core where she "shuffles" around on tectonic plates, and then there's the nightmarish Hollow, which is a mix of surging symphonic beauty, faint doomed bass beats, and harrowing strings.
There are times when the album takes on a soundscape-meets-soundtrack mood - thankfully a far less annoying and stageshow-like affair than 2000's Selmasongs (the music to the film Dancer In the Dark which Bjork also starred in) - but Biophilia is moving and ambitious rather than simply there to create an atmosphere.
First single Crystalline best sums the album up because it's got it all - starting with some dreamy galactic soul, tinkling chimes, and gently lashing beats before it gives way to chaotic and distorted old school drum 'n' bass from an age when her old flame Goldie was in his heyday.
It's one of those songs that shouldn't work, but it does, and the same can be said for this magical album.
Stars: 4.5/5
Verdict: More challenging beauty from world's most famous Icelander
Buy the album here.
- TimeOut