The unknown dancer who stepped into Kevin Bacon's old shoes talks about the Footloose remake to Peter Mitchell.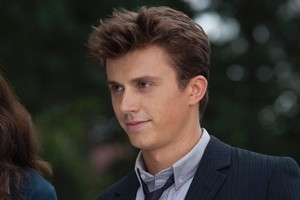 When whispers began to circulate four years ago that Hollywood was planning a remake of the 1984 classic musical Footloose, professional dancer Kenny Wormald was over the moon.
Wormald, who has appeared in music videos for Kylie Minogue, Madonna, Christina Aguilera and Prince, was embarking on an acting career and had his heart set on playing Ren MacCormack, the role that launched Kevin Bacon's career almost three decades earlier.
Hollywood, however, was not interested in Boston-born Wormald, who was a star in the dance world, but an unknown on the acting scene.
They wanted a big name and High School Musical's Zac Efron signed on.
Efron bailed a few months later and another teen heartthrob, Gossip Girl star Chace Crawford, was recruited for the lead role.
When a scheduling conflict knocked Crawford out, Wormald finally earned his chance and won over the studio, Paramount, and the remake's director Craig Brewer, best known for his acclaimed films Hustle & Flow and Black Snake Moan.
"I heard there were other actors attached to it and I was a bit jealous, genuinely," says Wormald, 27, who was born four months after the original film was released.
"I knew I could do Ren justice.
"Craig Brewer opened up casting to an unknown kid and I was very excited because I was a huge fan of the original film.
"As a young kid Footloose inspired me to pursue dancing because it starred a male lead who was very masculine.
"I would get made fun of at school because I would have to miss baseball practice and go to ballet, so it helped me a lot."
Brewer, Wormald and his cast, including former US Dancing with the Stars reality TV show champion Julianne Hough, do not stray too far from the original film, including the soundtrack which features modern artists covering classic songs from the big-selling 1984 soundtrack.
Country music's Blake Shelton performs Kenny Loggins' Footloose while Ceelo Green, Big & Rich, Gretchen Wilson, Zac Brown, Denim and David Banner also worked on tracks.
In the new film, Wormald's MacCormack moves from Boston to the small southern US town of Bomont that is still reeling from a car accident a few years earlier which killed five teenagers on a night out. The town's councillor, the Reverend Shaw Moore (played by Dennis Quaid), has banned loud music and dancing after the tragic crash and MacCormack challenges the decision.
"Firstly I resisted it for a while and questioned whether we should re-visit Footloose because there are a lot of fans out there like me who hold that first film as sacred territory, but I was posed this one question by Adam Goodman, who runs the studio (Paramount)," Brewer, 39, a self-described Footlooseologist, said.
"He asked: 'What is the movie 13-year-olds have seen recently that gave them the same feeling you got when you saw Footloose when you were 13?
"I had a hard time answering the question. It's not as easy as saying Step Up or Stomp the Yard. There's something more to Footloose than the dancing and musical spectacle I responded to when I was 13.
"When I saw Kevin in the movie with the spiky hair and skinny tie I discovered a new kind of hero.
"Before then my heroes had light sabres and ray guns."
Brewer and Paramount did attempt to entice Bacon to play a cameo as McCormack's deadbeat father in the update, but he declined.
"When the studio thought 'Should we offer something to Kevin?' I was like 'Well, the only role I thought would be good is this one' but Kevin read it, he didn't want to do it and I think he was right to turn it down because not only would it have cheapened the movie a little bit, but the role wasn't all that good and I cut it out of the script before I even started shooting," Brewer said. "But Kevin has been very supportive of the movie and supportive of me."
Brewer understands some Footloose fans may be wary of the new version and understands it will be compared to the original.
"We are doing a story that a lot of people know the title of, so there's already that baggage," the director said. "You are already going to be compared to the original - which I didn't necessarily view as a bad thing.
"I came from the theatre, Dean Pitchford who wrote the (original Footloose) movie comes from the theatre and we believe in revival.
"It's not such a bad word in the theatre. f you want to redo West Side Story and modernise it, I guess you can, but you better hold on to the heart of that story. So, the more I thought about it I was like 'I just want to take Dean Pitchford's script from the original and change a couple of things to make it more relatable to the audience of 2011'.
"That didn't mean putting cellphones in everybody's hands.
"That means making it really relevant to what I think parents and teenagers are going through right now such as worrying about their kids, overreacting and passing a lot of laws."
Lowdown
Who: Kenny Wormald, the new Kevin Bacon
What: The remake of Footloose
When and where: At cinemas now
- AAP