Woody Allen's latest has given the veteran film-maker a surprise hit. He tells Helen Barlow that while Midnight in Paris may be about pining for the past, he doesn't.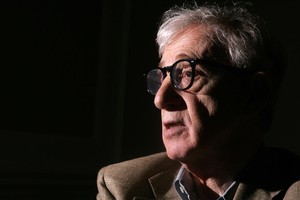 It may be the 42nd feature he's directed but Midnight in Paris has given Woody Allen something he hasn't had in years - a handsome profit.
It's become the 75-year-old's biggest box office success, even if adjusted for inflation, the likes of Annie Hall and Hannah and Her Sisters among others had higher attendances. Still, the film starring Owen Wilson and Rachel McAdams has grossed more than US$50 million ($65.4 million) in America and the same again outside the states, having opened the Cannes Film Festival earlier this year.
Midnight in Paris is the second of Allen's European-set flicks after 2008's Vicky Christina Barcelona, and he's just been in Rome filming The Bop Decameron.
When we meet, the health-obsessed director apologises profusely for his slight cold. At 75, he seems acutely aware of his age. Still, despite the neuroses he frequently vents in his films, he has never had writer's block like so many of his creatively stunted characters, including Wilson in the new movie.
"Interestingly it is the only fear I don't have," he says "I am afraid of everything and I am worried about everything but I have never had any writer's block. In fact if you said to me now, 'I will give you money to make a film in Serbia', then I could go in the next room and write a film for Serbia, and I have never been to Serbia but I just feel I can do that. Why? I don't know. Maybe because when I started I was a television writer, I was 16 and had to write a live show for every Saturday night. You couldn't sit there and wait for your muse to come."
Midnight in Paris follows Gil, Wilson's would-be Ernest Hemingway as he endures a holiday with his American fiance Inez (Rachel McAdams) and her insufferable parent.
On a midnight stroll, Gil is offered a ride in an elegant vintage car. But he is magically whisked away to a 1920s Paris where he encounters F. Scott and Zelda Fitzgerald, Cole Porter, Hemingway, Gertrude Stein, Salvador Dali (a hilarious Adrien Brody), Picasso, Man Ray, T.S. Eliot and Luis Bunuel.
He falls in love with Adriana (Marion Cotillard) who is mystified why Gil thinks the 1920s is a golden age. Allen says Gil's view comes from a tendency for people to think they've somehow missed out on mythical good old days.
"I feel that the impulses to not be where you are can very strong. Life is so difficult and so torturous and so full of grief and disappointment and sorrow that you want to be some place else and you think, 'Get me out of here!' ... or if I could live in the 20s.'
"When I think of Belle Epoque Paris, like everybody else I think of Gigi, of Maxim's, of horse-drawn carriages, all that candlelight. But when you actually think realistically, and not nostalgically, there are a lot of terrible things that went on. Women were dying in childbirth and men were dying of tuberculosis and syphilis. So I would not like to live in another time. It would be nice if one could go back just for the day, just for lunch and then come back to the present. You are really better off in the present."
Allen first went to Paris in 1964. "I had only known the city from movies. I'd never been there before and no one I knew went to Paris. But we had seen An American in Paris and those [Nouvelle Vague] films that came out, and we knew Paris as a very romantic place that was beautiful and everyone was kissing on the street. Then when I went to Paris, it was not bad. It was not a sudden disappointment. I looked around the streets and trees, the boulevards and the restaurants and it was pretty good. I thought to myself, this is one of the nicest places I have ever seen in my life. I do have regrets that I didn't consider more seriously living there."
A publicity point for the film has has been the inclusion of France's first lady, Carla Bruni-Sarkozy, as a guide at the Rodin Museum. The former model and wife of French President Nicolas Sarkozy acquits herself surprisingly well. Allen cast her after meeting Bruni, and her husband invited him over for brunch.
"We chatted and I asked her if she would be interested in being in a movie. She has such a vibrant personality. She said she didn't have the time, but I suggested she play a small part where I could have her in and out in two or three days. She said, 'Well, I would like to some day show my grandchildren that I was in a movie so it might be fun'."
Allen has no trouble attracting beautiful women to his films. Even if he can't pay them much, they don't have to be there for long. Seemingly the shooting is so enjoyable that they come back for more. Scarlett Johansson has made three films with the director, and Penelope Cruz and Judy Davis have returned for his Rome project.
Allen worked with his real life lovers, Mia Farrow and Diane Keaton, and there is still a lot of romance surrounding his sets even if it doesn't involve him. Old friends Penelope Cruz and Javier Bardem got together on Vicky Cristina Barcelona, while Rachel McAdams is now in a relationship with English star Michael Sheen, who also stars in Midnight.
"People have been meeting and marrying on my movies for years," Allen says, in his matter-of fact way. "There have been many people who you don't know, not just actors and actresses, but camera people and people in the crew that would meet.
"I have done films for many years and on my films I have worked with fathers and their sons. People have gotten married and had children and I have worked with their children years later."
Unsuprisingly, Allen says despite his recent Eurocentric projects he likes being at home in New York.
"I find Europe just like any place else really - it has many pluses that I don't get at home and minuses that I miss from home."
Like what?
"My shower. At home I have a wonderful shower and the water comes down hot and strong every day. Every time I go to a European hotel, the shower is cold."
Lowdown
Who: Woody Allen, writer, director actor
What: Midnight in Paris
When: Opens at cinemas October 20
- TimeOut