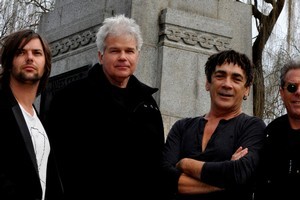 Dragon and Hello Sailor will team up for a double bill at the Powerstation on November 4, the first time the bands have played together in more than 20 years.
Apparently that last show was somewhere in Hamilton in the 80s, although the band members' memories are a little foggy. The night before the Powerstation show Dragon will pick up the New Zealand Herald Legacy Award at the Tuis and will be inducted into the New Zealand Music Hall of Fame, where they will join Hello Sailor, who entered the hallowed hall at the Apra Silver Scrolls earlier this month.
Dragon - whose only original member is founder-bassist Todd Hunter - have split up a few times over the years, and had numerous line-up changes, but have been a solid band since reforming in 2006 and recently released new EP Chase the Sun. So expect a couple of new songs and old hits such as April Sun In Cuba, Are You Old Enough, and Rain.
Tickets go on sale from Ticketmaster on October 3.
- TimeOut