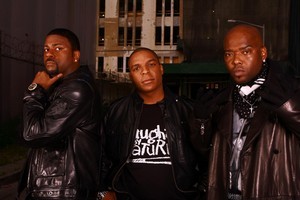 If you were down with O.P.P. 20 years ago, then get ready to get down again with cross-over hip-hop stars Naughty By Nature playing the Studio on October 19.
The song, O.P.P., with the catch-cry, "You down wit' O.P.P.? Yeah you know me", was the New Jersey trio's breakthrough hit in 1991.
Despite its lewd suggestion - basically asking if you were down with having sex - it was a worldwide hit in 1991.
The group split up in 2002 but reformed in 2006 and are set to release a new album, their first since reforming, later this year. Tickets go on sale from 1-night.co.nz on September 28.
Meanwhile, the lineup for Wellington's Homegrown Festival on February 18 has been announced with Shihad and Blacklist (that's four of the five original members of Blindspott) headlining the rock stage.
New to next year's event will be the Red Bull Lab where a select group of Kiwi musicians will come together to jam, remix, and battle each to come up with some musical magic.
Acts confirmed for the Lab include the Adults, AHoriBuzz, Tiki Taane, Fran Kora and LA Mitchell, with a DJ sound-clash featuring Concord Dawn vs. P Money.
Also playing the festival are Black River Drive, The Thomas Oliver Band, Kids of 88, Smashproof, David Dallas, Kidz in Space, Optimus Gryme, Bulletproof, Six60, the Black Seeds and Kora among many others, with more to be announced. For more info and earlybird tickets go to homegrown.net.nz. General public sales from September 26.
Also, to celebrate the upcoming release of their second album, World Comes Calling, Auckland rockers Midnight Youth play a show at the Powerstation on October 28. Tickets on sale Monday at Ticketmaster - only $20.
In other gig news the Pajama Club - Neil and Sharon Finn's band - have had to postpone their tour due to unforeseen circumstances. They now play Wellington's San Francisco Bath House on December 3 and Auckland's Kings Arms on December 4.
- TimeOut