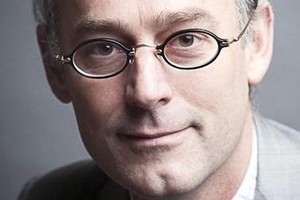 I'm loving Rules of Civility by debut New York novelist Amor Towles. And I love the influences he's shared with us in our Q&A.
You'll note he's listed about 70 inspirations, from Woody Allen to zen - in alphabetical order. He's either extremely well organised or slightly obsessive.
Still, he probably has to be a bit of both to hold down a prominent day job in the Manhattan financial industry and be a dad to two young kids, while writing a novel as impressive as this one in his spare time.
I'll post my review of it next week, after Christine reviews her September feature read, Rachel Simon's The Story of Beautiful Girl.
And we'll round up the most promising of this month's new-release books this Friday.
In the meantime I'm off to make a list of my influences, inspired by Towles - just for fun. I might not, however, alphabetise them.
Thanks to Clare of Manurewa, Di of Richmond, Stephanie of Sandringham, Lorraine of Whitianga and Justine of Belmont for submitting questions.
Q: You're a debut novelist at age 46. What was your path to writing this novel?
I've been writing fiction since I was a kid. From the age of 15 to 25 I probably wrote more than 50 short stories, one of which was published in the Paris Review in 1989. Then in my late 30s and early 40s, I wrote a novel set in the farmlands of Stalinist Russia which I stuck in a drawer. So when I finished the manuscript for Rules of Civility it was the first thing I had submitted for publication in almost 20 years.
One reason for the long hiatus is that I have been an investment professional since my mid-20s. My personal challenge as an artist has been having a day job which is intellectually satisfying and fun - and thus can easily supplant the desire to make art.
But the benefit of having that career has been that I could write without an overwhelming sense of urgency to be published. I could just keep refining my craft until I was convinced I had something worth sharing.
Q: Have you quit your day job yet? If not, how do you balance what seems like two very different careers?
I have not quit my day job. In a way, it is the vast difference between these two careers, which provides the balance in my life. It would be much more difficult for me to write a novel while teaching creative writing or editing a literary magazine. When your vocation and avocation are too close, they're bound to be in conflict. But when they draw on different skills, different parts of your brain, and provide different satisfactions, then one endeavor can reinvigorate you for the other.
Q: By writing about New York society of the past you were inviting comparisons with F Scott Fitzgerald, JD Salinger, Edith Wharton, Truman Capote ... How did you shrug off their ghosts and find your own voice?
I really didn't think too much about the great authors of the New York scene while I was writing the book. At the onset, I had my premise from the Walker Evans photos (of an individual undergoing transformation in 1938 New York) and my narrator (with her wry, ambitious intellect and sharp moral compass) and I tried to let all else spring essentially from those elements. I suppose I also claimed the period as my own through invention. At amortowles.com you will find a map with histories of nine important locations in the book, four of which are factual and five of which are fictional.
Perhaps I didn't struggle too much with comparison because I am such a lover of collage. Whether it's the works of the early Dadaists, or the boxes of Joseph Cornell, or sampling in contemporary music, I enjoy experiencing the successful integration of one work of art into another. I have hundreds of influences at this stage of my life, and I am constantly collaging them into my work while still hoping to fashion something new.
A short list of my influences: Woody Allen, aristocrats, bars, Batman, the Beats, bistros, James Bond, Humphrey Bogart, Jorge Louis Borges, cafes, Italo Calvino, cards, Charlie Chaplin, Raymond Chandler, Christmas, the Chrysler building, cooking, Joseph Cornell, DaDa, Charles Darwin, Miles Davis, Bob Dylan, the Enlightenment, existentialism, William Faulkner, F Scott Fitzgerald, Florence, Ford Maddox Ford, Sigmund Freud, Stan Getz, Grandma, Cary Grant, Greenwich Village, Ernest Hemingway, Edward Hopper, Franz Kafka, kick-the-can, Captain Kirk, Milan Kundera, late night, Led Zepplin, Edouard Manet, manifestoes, Gabriel Garcia Marquez, Henri Mattise, Van Morrison, the OED, Oulipo, Paris, pasta, Marcel Proust, John Reed, Jim Rockford, rock & roll on vinyl, the Rolling Stones, Russia, the seaside, Frank Sinatra, Aleksandr Solzhenitsyn, springtime, John Steinbeck, surrealism, Henry David Thoreau, Toll House cookies, Leo Tolstoy, Walt Whitman, Virginia Woolf, William Butler Yeats, zen.
Q: What is your writing schedule and what is the one thing you must have to get in the writing zone? Chocolate? Coffee? Quiet? (Question from Clare in Manurewa).
As a working professional with a family, what has been effective for me has been to schedule a block of writing time a few days in advance. This allows me in off moments (like while walking to work) to free-associate about settings and conversations and themes in the upcoming chapter. Thus, when I sit down to do the work, I hopefully have a roster of ideas I'm eager to flesh out, rather than a chiding blank page.
The process of writing - of taking the moment of inspiration and crafting it into paragraphs - is one which entails contemplation, empathy, poetry, willpower and drudgery. So, once I'm at my desk, I definitely use a variety of tricks to establish a productive mood. I often write with a good cup of coffee and a pastry, (or a cigarette and scotch). I also like writing to music. Best of all, I like writing to albums which themselves are moody, groovy, thoughtful, and cohesive works of art - like Miles Davis' Kind of Blue, Stan Getz' Jazz Samba, Van Morrison's Astral Weeks, Marvin Gaye's What's Going On, Bob Dylan's Blood on the Tracks, Joni Mitchell's Hejira, Hope Sandoval's Bavarian Fruit Bread, Coldplay's Parachutes, or Ray LaMontagne's Trouble.
Q: Do you consider writing to be a discipline or more a magical journey? (Question from Di in Richmond)
It is most certainly both. I think writing well requires discipline at multiple levels. One must set aside the time to get the work done; one must refine one's craft through training (trying to perfect dialogue, setting, character, metaphor, etc.); one must be willing to re-write a passage numerous times, reorder material, and jettison a few favourite parts.
But at each stage, an element of magic may present itself. A character surprises you by what they do or say; an image pops into your mind which neatly ties together different aspects of the book; the perfect counterintuitive word barges in unannounced ... I suppose it is this interplay between discipline and inspiration (or magic) which makes the creative process so compelling.
Q: Which author/s first inspired your writing? (Question from Stephanie, Sandringham)
I fell in love with reading and writing simultaneously. So my first writers were a poet of juvenilia named David McCord and the Hardy Boys mystery series (both devoured in early elementary school).
Q: How did it feel when you were told your first book was going to be printed? (Lorraine, Whitianga)
I am a great believer that we are what we do. We formulate convictions about who we are (I'm honest; I'm patient; I'm a trapeze artist; I'm a good husband or wife.) But ultimately, we are not what we imagine ourselves to be unless we fulfil that aspirational sense of self through action.
As one who has loved and practised writing since I was young but then gave up writing for a decade as I pursued my job (and my wife), I realised at a certain point that I had no right to conceive of myself as a writer. It was only with the completion of Rules of Civility that I became willing to call myself a writer at last.
Q: If your house was on fire and you could only save one book, what would it be? (Justine, Belmont)
When you phrase the question that way, I suppose you mean which book as a physical object is irreplaceable for me. My grandfather gave me a volume from George Washington's library with Washington's bookplate and signature. I'd grab this one as the fire trucks approached.
But it would be a different answer were you to ask what book I'd like to be stranded with. Then, I would opt for Swann's Way, the first volume of Marcel Proust's Rembrance of Things Past. I would happily read that book over-and-over and, in my spare time, I'd try to write six subsequent volumes from scratch, in a manner that was different from Proust's six, but true to his first volume.
- Herald Online