Nearly 50 years after founding the Rolling Stones, Mick Jagger is at it again. He's formed SuperHeavy, a new band of heavyweight singers and musicians and is having the time of his life. Stephen Jewell catches up with him in London.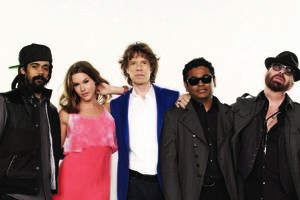 Mick Jagger thinks there's nothing wrong with growing old disgracefully. At 68, the man with the famously creased face has no intention of fading into the sunset. Instead, go on to YouTube and there he is cavorting about in a hot-pink suit in the video of Miracle Worker, the infectious first single off the band's debut album SuperHeavy.
And that's his point. Why would he retire when he's still having fun?
Jagger is sitting in an exclusive London hotel room with fellow band member Eurythmic's Dave Stewart. The pair, with English diva Joss Stone, Bob Marley's youngest son, Damian Marley, and Slumdog Millionaire composer A.R. Rahman, form the new band SuperHeavy.
"I don't know anyone my age, who is actually retired," says Jagger with a wry smile. "People don't do that anymore. It wouldn't even occur to me. Maybe I would if I wasn't able to do it anymore, if I wasn't able to sing or if the keys were too high. If everyone stayed up too late and Dave drank too many martinis, perhaps I'd go 'I can't do this anymore' but it's not really like that.
It's just the same as it always was really, although there's less drugs than there used to be."
While the Stones were originally drawn together by their mutual love of rhythm and blues, SuperHeavy's numerous influences include reggae, soul and Bollywood soundtracks.
Described as "a mad alchemist type experiment", SuperHeavy grew out of Jagger and Stewart's desire to work with musicians from different cultures and genres. They had both worked previously with Stone on the soundtrack of 2004's forgettable Alfie remake. Marley came on board after impressing with his 2010 album Distant Relatives with American rapper Nas while Rahman was recruited after they crossed paths with the Oscar winner in Los Angeles. Getting all five together at the same time proved to be a logistical nightmare. But while recording took place in Los Angeles, Miami, the South of France, Cyprus, Turkey, the Caribbean and India, Jagger insists it was an organic process.
"It was all done in the same room with amplifiers, a rhythm section, two extra keyboard players and a violinist," Jagger says. "We did it all live and, afterwards, we did lots of posts, which you always have to do, filling in the gaps, writing things that are missing and adding other instruments. That took awhile. The first two weeks were pretty incredible, especially considering that it could have been rubbish, nothing at all or just mediocre. There was a lot of high-energy stuff. It was fast and furious."
Jagger is fizzing, full of energy despite a long day talking to the world's press. He and Stewart make a formidable tag team, frequently finishing each other's sentences, cracking jokes and branching off on long tangents. Jagger looks impeccable in a turquoise shirt, white T-shirt and jeans, a more reserved look than the fluorescent pink suit and sneakers he wears in the video for Miracle Worker.
"I felt pretty good in that," he laughs. "The set was so dark, I thought it would be nice to have some pizzazz."
Stewart says: "The five of us are all relatively well known but Mick is much more well known. I was wondering what he was going to wear for the shoot and then he turns up in bright pink. It was brilliant. It was important to come out and say 'f*** you, here I am'."
Stewart agrees Jagger, and his voice, are in good form.
"Having five different people working together and watching Mick hone his sections and work out where exactly he was going to come in was like watching a master painter or film director when they get older."
As Stewart points out, even the younger members of SuperHeavy have pretty extensive track records. "Joss is only 24 but has actually been doing it since she was 13," he says. "AR comes from the film composing side of things. He'd sit and watch this mad group of Western people make music and he wouldn't say anything for awhile. Then he'd come in and play something and you'd think what the hell's that? It's like something from outer space but it fits on top."
Although SuperHeavy cover more stylistic bases than the Rolling Stones, Jagger believes all but the most stubborn of his old band's followers will warm to his new album. "I'm sure that the Stones fans who like us in a very wide way will like this as well," he says. "The Stones have always been a band that has done a lot of different kinds of music; we've never been stuck in any way. Even though the Stones started off as a blues band, we expanded our horizons and have done a lot of other things. So if you like the Rolling Stones expanding, you'll like this. But if you only like one kind of Stones music - if you only like Honky Tonk Woman - maybe you won't like it."
Growing up in Dartford, Kent, Jagger first bonded with Keith Richards over their mutual love of American blues pioneers like Muddy Waters and Howlin' Wolf. "We thought they were really ancient when we went to see them but they weren't really that old," recalls Jagger. "I remember thinking 'how can a poor old guy like John Lee Hooker play like that? I must go over and speak to him.' But he was only about 40, which I thought was really old at the time. You just do what you can and if you feel like you're more or less still at the top of your game then you just keep doing it, you don't think about how old you are."
Even Jagger's harshest critic Richards approves of SuperHeavy despite claiming in his autobiography last year that Jagger should never have gone solo. "Keith likes it a lot because he likes Damian," says Jagger, who has also played the album to his fellow Stones Ronnie Wood and Charlie Watts. "Charlie really liked it because of the rhythmic nature of it."
While Jagger insists SuperHeavy would only play live "if we could create some kind of special event", he and Stewart are keen to make a follow-up record.
"We actually talked about this before we even started and I said 'wait a minute, let's make the first album before we make this second one'. But if we did another one, it would have to be completely different to the first album."
SuperHeavy will be released tomorrow.