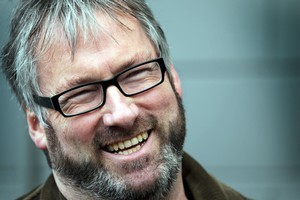 Jeremy Corbett leaves More FM next month. Jane Phare meets a man and his iPhone.
Jeremy Corbett is leaning low over the cafe table, murmuring into my tape recorder. I'm talking on my mobile in the din of a Ponsonby cafe, a bit flustered.
It's not until I get back to the office and transcribe the tape that I hear what Corbett was whispering.
"At this stage of the interview, Jane is on the phone," he whispers. (Long pause.) "It's a little bit rude ... [another long pause]. It's like my time's not as precious as hers."
It's classic Corbett, that deadpan, comic take that More FM breakfast listeners will miss when Corbett does his last show on Friday, October 21.
He wants to show me something on his shiny new iPhone: "You must get one" he says, eyeing my battered Nokia.
Giggling, he shows me the final countdown ticking away in days, hours, minutes and seconds to his last shift.
But really, he says, he will miss breakfast radio. Well, perhaps not the 5.30am starts, but his co-hosts Joe Cotton and Pete Dakin.
Corbett has the morning routine down to a fine art: he crawls out of bed at his Mt Eden home at 4.47am ... "or 4.56am, depending on how many snoozes I hit".
He's been with More FM since it launched in August 1993, when he and co-host Kim Adamson jumped ship from 91 FM, going up the dial to 91.8. And no, Corbett says, he wasn't pushed; he walked - well, he's about to. He's been mulling over the decision to leave for the past two years, during "deck time" with wife Megan over a couple of drinks in the evening.
Corbett's lived through a lot of changes since the Kim and Corbett in the Morning days, not least the "awkward" nine months on air when Corbett knew he was staying and Adamson was going. They were close - best men at each other's weddings - but the split in 2009 was difficult nevertheless.
At one stage Corbett and co-host Hilary Barry refused to go on air in support of Adamson, who was upset over his contract negotiations. It's all good now - they had a beer together last week.
It was with Adamson, now breakfast host on Coast FM, that Corbett did what was arguably some of his best work, interviewing Hollywood stars during a junket to the United States and talking on air to ridiculous characters like the dopey Brian from Birkenheadale.
Corbett was famous for his long, drum-roll-style introductions to stars he interviewed, using information gleaned mostly from Wikipedia. They always drew a laugh from easily flattered Hollywood types and rock stars, with a couple of notable exceptions.
Ageing comedienne and Fashion Police host Joan Rivers interrupted him twice with "Boring, boring, move on". "I don't like her," he says. "Stuck-up cow."
Another extravagant intro that backfired was during an interview with two members of the rock band Coldplay - Chris Martin wasn't one of them. When he got to the end of the second band member's introduction, there was an embarrassed silence. "He said, 'Um ... that's not me'. I'd got the wrong guy."
Corbett chortles his way through this story, as he does most of his stories. Talking in the cafe, he's not much different from the Corbett on radio and TV. DJs and comedians are just amplified versions of themselves, he says. They draw on their own lives and the lives of people around them.
Little is out of bounds when you're working with similar personalities; the teasing is relentless. Early in Megan's pregnancy, Corbett's co-hosts Jesse Mulligan and Cotton decided to come up with a name for the baby: Mejangjo.
The Me stood for Megan, the J for Jeremy, the A, N and G represented Jeremy's three brothers - Andrew, Nigel and Greg - and Jo stood for Megan's brother, John.
It stuck for quite a while, says Corbett, by which he means it stuck until Megan gave birth to a daughter, now 9 months old, and overruled the breakfast co-hosts
The baby's Charlie. Not short for anything. Just Charlie.
Both Megan and Charlie will need thick skins living in a house with a comedian. Charlie is bald and Megan won't dress her in pink, so people think Charlie's a boy. She looks like her dad, Corbett says, "a little bit ... butch".
On the internet is a behind-the-scenes clip of TV3's comedy show 7 Days, for which Corbett is host and referee. The clip shows head writer Mulligan coming up with a gag about Megan. It's a funny line. Corbett likes it. So does the 7 Days audience.
Referring to a win-a-wife competition in the news that week, Corbett says, "Win a wife, I can understand that. When I married Megan it felt like winning Lotto ... not first division obviously ... [through loud laughter] more like four numbers and the bonus ball."
But Megan Corbett, now 35, knew what she was in for. She and Corbett met - and later married - at the Comedy Club. As the story goes, she used to go out with comedian Brendhan Lovegrove.
"And he keeps reminding me of that," she says.
In his comedian voice Corbett adds: "After him, anyone's going to seem amazing."
No, he didn't steal her off Lovegrove, he says.
"That was over. But did I mention it to Brendhan? ... Did I get his permission? ... Pretty much. I did."
Megan had already made her own mark, first as one of the take-no-prisoners goddesses in the Speights Southern Man advert and later as Chastity, the classy prostitute in Outrageous Fortune.
"She made that role her own," says Corbett. "I'm very proud to tell people that my wife plays a high-class hooker."
Jokes aside, it's clear that Corbett's wife and daughter are his priority. He loves fatherhood, he says.
"I'm not sitting at home wondering if everyone else out there is having a better time partying."
He talks a lot - in a harmless, WikiLeaks kind of way. There might be another member of the family, he says at one stage. And then he backtracks with a giggle.
"I mean, that's not an announcement. I'm saying in an ideal world we would have another bub."
And later he lets slip that he and Hilary Barry will be co-hosting this year's Christmas in the Park.
"Was I supposed to tell you that? I'm not sure." Oh well, too late.
But talking is what he does, behind the microphone in a radio studio, on television as host of game show Deal or No Deal or 7 Days, or on stage at the Comedy Club.
He'll continue hosting 7 Days - it's "as close as you'll get to do radio on the TV". Corbett loves the ad libs, the rude bits which he thinks will get cut and aren't, and "sitting around talking s*** about the week's news with a good bunch of people".
He'd like a few more MPs to front up for a session of "Yes Minister", where both teams fire a barrage of questions and try to trick, shock or embarrass the MP into answering yes or no.
Corbett knows Transport Minister Steven Joyce "from way back in radio days".
"I've been trying to encourage him to come on and he's like, 'Nah, you'd just pick on me'."
And Corbett says he'll be doing more stand-up during his stand-down.
"Sharpening up that wit, exercising that particular muscle."
It was something he started in Palmerston North, larking about with his brother Nigel at Massey University capping revues; country boys who came to town from the West Coast. He was born in Westport but grew up in a little town 65km north called Ngakawau.
He fiddles with his iPhone until Ngakawau comes up, a dot on a long, straight line with blue on one side.
For the rest of his "extended Christmas break" from radio, Corbett's going to do what he gets little chance to do - get out of bed at normal hours and read the newspaper because he wants to, not because he has to. He wonders how long before he'll go "stir-crazy".
Corbett knows he's not irreplaceable. And he finds comedy even in that. In a deadpan tone, he says that when he told his boss Wendy Palmer, MediaWorks Auckland general manager, that he was leaving he asked her to go easy on him.
Pretending to talk to Palmer, he says: "Well, I know no one's irreplaceable but I really don't want you to name someone and then move on. Give it ... a couple of weeks."
In fact, MediaWorks hasn't found a replacement or doesn't yet know what it'll do with the breakfast show.
Ande MacPherson, the station's programme director, says "any downtime we get from organising Jeremy's leaving party" is spent on finding his replacement.
"There has been a lot of speculation, with my favourite being [that] Paul Henry wants to move up a couple of floors ... But seriously, More FM listeners can rest assured that sorting the new show is our top priority and we will have news later this month."
Which means Corbett doesn't need to worry about them moving on too quickly.