The daughter of movie mogul Ron Howard is rising in the Hollywood ranks, thanks largely to her portrayal as a bigoted Southern belle in The Help, writes Helen Barlow.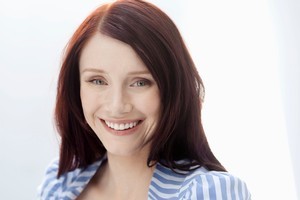 She's beautiful, talented and knows people in high places. Yet Bryce Dallas Howard has been a fringe dweller in Hollywood, until now.
Her performance as the Southern social queen and racist vixen Hilly Holbrook in The Help, based on Kathryn Stockett's bestseller, should make audiences stand up and take notice, she also plays Joseph Gordon-Levitt's girlfriend, Rachael, in the comedic drama, 50/50.
"Rachael is wretched! I am totally on a mean streak this year," Howard declares. She has also tested her talents behind the scenes, by producing Gus Van Sant's Restless via her father Ron's Imagine Entertainment, one of the most successful companies in Hollywood.
During our interview for 2005's Cinderella Man, her dad had explained proudly how Bryce had been keen to pursue her own more adventurous path, appearing in experimental theatre and movies like M. Night Shyamalan's The Village and his unfathomable Lady in the Water (where she was a water nymph). In Lars von Trier's Mandalay, the second of the director's USA trilogy after Dogville, she replaced Nicole Kidman in the leading role.
"When I was younger, things that maybe didn't resonate with everyone, resonated with me," the 30-year-old actress now says. "It was my form of rebellion of having a very mainstream film-maker as a father. But as I have grown older it is not necessarily that my tastes have become more mainstream, I think I have become more centred in myself."
Even if today the clearly pregnant stunning redhead radiates warmth, she explains how she had suffered a deep postnatal depression following the birth of her son, Theo, now 4.
"It was so unexpected and went on for so long, 18 months. This time around I'm not as worried about things and while I really don't want it to happen again, it's not something I can necessarily control. If it happens, hopefully I'm more prepared and I'll get help earlier."
For five years Howard has been happily married to television actor Seth Gabel, who she met at New York University and married five years later. She enjoys a lot of family support and also has that rather famous godfather, Henry Winkler, the Fonz on her father's monumental series, Happy Days. "Henry is a really active godfather," she says.
Although her upbringing might seem to have been intertwined with her dad's work, it wasn't.
"My parents never encouraged me to watch Happy Days," she notes. "In fact they really didn't let us watch much TV, so by the time I went to college I wasn't like, 'finally I can now watch Happy Days!' My mum actually showed me The Andy Griffith Show and I just bought a box set for my son. I think it is a really great show but so is Happy Days."
The eldest of four children, Bryce Dallas, like all of her siblings, was partially named after the place where she was conceived. She was dynamic in her youth. At age 11 when her parents refused to allow her to act - "they said I didn't exhibit any ability at all and I have to admit I was pretty lame" - she insisted on becoming a production assistant and began working in a production office with her own walkie talkie.
"There was nothing more fun for me than getting to be on set and be a part of that collaboration, even though I was only getting people's lunches, squeezing orange juice and performing very rudimentary tasks."
Ultimately she made her acting debut in her father's 1989 movie Parenthood, and attended New York University and drama school. She also appeared in 2007's Spider-Man 3, 2009's Terminator Salvation and as a vengeful vampire in 2010's The Twilight Saga: Eclipse - even if she is hardly recognisable from those films.
Basically when she tried to go commercial, even in Clint Eastwood's recent Hereafter, she struck out. Now The Help, a modestly budgeted ($25 million) US box office hit, is finally putting her on the map.
"I was talking to my mum on my way to the audition and she was reading The Help in her book club and was loving it. When I told her the character I was auditioning for she immediately said that I'd be perfect. I guess she knows a different side to me than anyone else. Hilly's totally the villain!" she gasps. "It's not often that a part like that comes along."
Set in Jackson, Mississippi, in 1962, just as the Civil Rights Movement was gaining momentum, The Help is funny, poignant and a little over-the-top as it focuses on two maids (Viola Davis and Octavia Spencer) and the bored society women they work for. While the Tony-award winning Davis and the plucky Spencer (a former flatmate of director Tate Taylor and whose character is not unlike herself) are already being touted for Oscars, the actresses portraying the wealthy gossip-mongering socialites also create an impression, as wives very much under the control of their husbands. Dressed impeccably like characters from Mad Men, they not only take out their frustrations on their maids but on the white trash newcomer Celia Foote, (Jessica Chastain) a Marilyn Monroe-style bride, whom they ostracise from the group.
Emma Stone's young ambitious writer, the narrator of the piece, manages to get their story out.
"I did a lot of research, watching documentaries and talking to people about their experiences during that Civil Rights period," Howard notes. "It was an experience that changed their lives forever."
The grassroots nature of the American South suits Howard's sensibility. Hardly a Hollywood brat, she was raised in rural Connecticut, far from the paparazzi's gaze.
"That was something that was important. It was for us as kids, but also for my parents. The 80s was a very intense time in the business for my dad. It was very cut-throat. I feel like it is a bit different now. It is more about collaboration than competition. I think for us to be raised on the west coast at that time didn't really work with our family's sensibility.
"We are kind of shy and introverted, like farm people."
Howard has learned a lot about dealing with showbusiness people from her father, she says. "My dad started working when he was 18 months old, he started directing at 23 and is an incredible listener. He's been in the business for over 50 years so is very inspiring."
Still she says that her husband has another opinion. "He says everything you know you learn from your mother because she just runs everything. My parents have been together since they were 16 and I don't know if my dad could function without her."
Interestingly they are both redheads and were keen to contribute to redheads' race against the evolutionary clock.
"We are getting bred out. That is why my parents decided to get together. Keep it strong!" she chortles.
LOWDOWN
Who: Bryce Dallas Howard
What: The HelpWhen: Opens September 15
- TimeOut