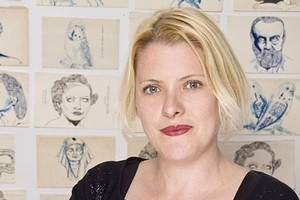 Meeting New Zealand artist Sam Mitchell for the first time in New York, you would think she had been in the city much longer than just a few weeks. Dressed in paint-covered blue overalls, she looks the part of a New York artist in residence - which is exactly what she is.
Paramount winner of last year's Wallace Art Award for her work Janus, Mitchell received a bronze trophy by sculptor Terry Stringer and a six-month residency at the International Studio and Curatorial Programme, sponsored by the James Wallace Trust.
"It was a shock," she says. "I wasn't going to go to the ceremony, but I kept getting hounded - so I got a bit suspicious. They asked me if I was attending the evening and I said no, giving all sorts of excuses, but they basically said, 'you have to come'."
Mitchell was hoping for the Jury Prize, which is recognition of an artist's work. "I had talked to people in the past about winning the paramount award and the complications that it can incur. I mean, most people just can't pack up their life for six months."
ISCP, a former lithography factory in Brooklyn built in 1901, still has some untouched empty areas, giving it an almost eerie feeling. The building, painted white with a lot of closed doors, includes 35 studios, an exhibition gallery and a project space. It houses several residencies and each year more than 100 artists and curators are on site.
Mitchell's distinctive art decorates the room, along with paint tubes, brushes, perspex and a not-so-expected American flag. She said the flag was there when she arrived but, with an American father, some patriotism is understandable.
Born in Colorado Springs with family in New Jersey and a brother who has lived in New York for 20 years, Mitchell says: "I grew up with stories of America, so it is a bit like coming home. I am very honoured to be doing this. Part of me is still waiting for someone to knock on my door and say, 'hey, sorry, we were wrong'.
"But I think it is quite a good way to feel. In some way, it makes you appreciate it more because you feel like you're privileged ... all those years of making art have paid off."
Mitchell describes her work - portraiture - as comical with many things going "on for an instant connection".
"People think they know the person or it looks like someone they know, so they start a whole conversation with the work. Even if they hate it straightaway, they are still looking at it because of the comic and colour and the fact it is just a portrait."
As Mitchell listens to the radio when she paints, her work will often reference current affairs. "With the winning work, I was painting on the day Kevin Rudd [former Australian Prime Minister] got pushed out, so it says 'bye bye Kevin Rudd'. I also used to do cropped out sentences, so if you put the first letters of every word together it would spell something out, which is fun."
Mitchell says New York is a "very distracting city" but she is enjoying the opportunity to work as a full-time artist. "If I want to make a living as an artist I always have to have a part-time job, because you never know what the market is going to like. You can never guarantee a sale."
Mitchell is also doing a residency at the Williamsburg, Brooklyn-based programme PointB Worklodge.
"There are eight studio spaces. It was started in 1996 by a guy who bought a warehouse space and decided to turn it in to an international residency programme. The minimum stay is one month, maximum four months."
To gain a PointB residency, you must be referred by someone who has done it before. Mitchell's recommendation came from artist and Wallace Awards judge Sara Hughes, who did it for four months, when she was also doing her ISCP residency.