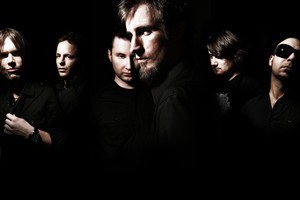 Rising incongruously from an entire London street of white houses stands a lone black building. It is here Pendulum spend much of their time - in the downstairs studio that belongs to frontman and songwriter, Rob Swire - and work on their genre-spanning sound that fuses drum 'n' bass with metal, dance and rock. This is where the Australian band recorded their last album, and where I meet Swire and the band's bassist, Gareth McGrillen.
It certainly suits the band, this black house. Pendulum's music invokes a dark energy, helped along by giving their songs titles like Tarantula, Witchcraft and Propane Nightmares. And an abundance of people have found something in Pendulum's dark art to connect with. Their third album, Immersion, raced to the top of the charts in Britain and into the top five in Australia and New Zealand when it was released last year. They have sold more than a million records and found themselves festival favourites thanks to their energetic live shows. Having taken the Auckland Big Day Out by storm in 2009 and returning to do a stadium show last year, they will headline the forthcoming Rhythm and Vines show in Gisborne on New Year's Eve.
So who is buying their records and concert tickets? We can assume it's not the critics - the band has been on the receiving end of some poisonous attacks in the press, mainly from those who are baffled by their sound and appeal.
Their young fans, however, are ardent in their love for them and will tell you that it is at the theatrical live shows that the band really comes into its own. "The notoriety of the live set is valid," says McGrillen, "because we did set out to devise a way of doing live electronic music properly, and the fact it's become well known because of that is something we're definitely proud of."
Their ear-splittingly loud and hugely expensive sets tend to turn their audiences into one heady, revelling mass. The band's sound might be big and dumb but it provides many people with a release.
"I think that is one reason why we've become quite big in the UK," remarks McGrillen. "British audiences are so into escapism, in any form possible, whether it's just two pints after work at the pub or reality television."
The band's founding members met in high school in Perth, where they were united by similar musical tastes. At the time their classmates were into grunge bands like Nirvana and Pearl Jam, and the boys found they had to keep their love of electronic music a secret.
"It was literally the most shunned thing," recalls Swire. "In a way we were closet electronic music fans."
Like legions of class geeks before them who have gone on to make it big, the band find it hilarious to have the guys who used to give them a hard time turn up at their shows and clamour for their attention.
The band moved to London seven years ago.
"It is so isolated in Australia," says Swire. "And especially at that time, you couldn't really get your music out of the country. Back in 2003 you didn't have bands like The Presets, Sneaky Sound System or Temper Trap, and we thought if we stayed there then maybe we'd get well known on the local Australian music circuit but nowhere else, so in order to do anything we had to leave." London, the centre of drum 'n' bass, was the most obvious destination.
They released their first album, Hold Your Colour, in 2005 and became one of the biggest selling drum 'n' bass albums in Britain. Their follow-up, 2008's In Silico, alienated some of their fans, who accused them of ignoring their drum 'n' bass roots and embracing rock. Immersion was, to an extent, intended to appease all their fans. Swire explains, "With In Silico you heard people go, 'Oh what happened to Pendulum?', and we wanted to, not calm them down a bit, but I guess we sort of felt that there was an element missing that we'd like to hear again, so we went about trying to do that, and at the same time go completely off in a different direction with stuff like the In Flames track."
"If you're going to do something different," Swire says, "you've got the chance to mess it up pretty badly and not recover from it. But where we have done something different like The Island, that's probably one of the best reactions we're having of any track in the entire set, so it gives us more confidence to branch out and to do some different stuff."
Swire said on Twitter that he planned to "add violent punk guitar for the next record".
Whatever the reaction is to their new work, it is unlikely that the band will be too affected by it. After all, they've got used to being high on people's hit-lists.
Swire muses: "I think we've built up enough armour now to not really be affected. It's like, well, sure, but this kid and that kid over there don't think so, and 90,000 people at Glastonbury didn't think so, so whatever. And we don't really get personal criticism either so it's all good. "
They understand that theirs is a band with a shelf life. Their music requires a certain youthfulness to perform. McGrillen laughs: "It's just not the kind of music we can play in our 40s really, is it? I can understand someone like The Police getting back together, because those songs were all kind of ballads and they had a lot of meaning, but there's no meaning in Blood Sugar."
Hear them in the grapevines
Pendulum has been announced as the headliner of Rhythm and Vines 2011. The annual three-day New Year music festival held at Gisborne's Waiohika Estate had already sold 13,500 tickets through presales before this week's first line-up announcement, which also confirmed a wide raft of hip-hop, dance music and indie acts. Other imports announced include rap pioneer Grandmaster Flash, Scottish electro-dance star Calvin Harris, Aussie artpop act Cut Copy, as well as Yuksek, Netsky, Foreign Beggars, Busy P, 12th Planet and A.Skillz.
Locals on the bill so far include Kids of 88, Six60, David Dallas, Homebrew and Ruby Frost, with more acts to be announced in coming weeks.
More info: www.rhythmandvines.co.nz
LOWDOWN
Who: Pendulum
What: Rhythm and Vines 2011
- The Independent