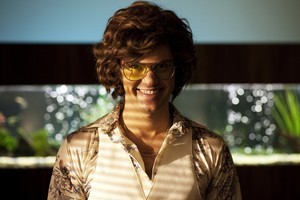 As a matter of taste, I like my crime hardboiled. As a matter of style, I like my crime noir.
In print, my favourite copper is Philip Kerr's Bernie Gunther, a flawed (natch) Berlin private dick, and my favourite criminal is James Ellroy's Pete Bondurant, a six-foot-six monster who almost whacked "Bad-back Jack", aka JFK.
On TV, it's always been Fitz from Cracker who's been my most compelling, well, crime-cracker, and Tony Soprano who's been the most compelling cracker crim.
If any of them have committed a crime or solved it, it's been bitter, hardboiled and noir. If any of them of have offered a laugh, it's been bitter, hardboiled and noir.
So I was ready, on principle, not to like Land of the Long Green Cloud (TV3, Wednesdays, 8.30pm) and I was plenty ready not to fall for Marty Johnstone, the based-on-fact anti-hero of New Zealand's first crack at the Aussie TV crime syndicate, Underbelly.
But then Johnstone introduced himself.
"The name's Marty," he said, about half way through last night's first episode. "It rhymes with party."
This was not very hardboiled. And it was certainly not bitter or noir. But there it was: it was funny. And if one short sentence embodied the gleeful and rather jolly silliness of the first episode of this six-part series, it was Marty rhyming his name with party.
This show hasn't met a pun it doesn't love. In the space of the first five minutes we had "hippies living the high life up North", while the "police were uprooting crops while Marty Johnstone was up rooting in Northland". In the space of five minutes, I felt like I'd made a new friend.
I'm not entirely sure if this is a good thing. After all, the characters - at least their names and the broad brush of their crimes - are real.
For anyone who's been half awake in the last few decades, the story of Mr Asia is infamous history. They players here - Party Marty and his compadres in crime Andy Maher and Terry Clark - were to become key members of this country's most notorious heroin syndicate, spreading their filth and their violence from New Zealand to Australia to Britain. Johnstone would eventually be found handless, toothless and dead in a water-filled quarry in Britain - murdered by his mate Maher on his mate Clark's orders. Clark would, after being convicted of murder, die of a heart attack in a British prison in 1983.
Two may be dead, but they're all still scum. So the idea of playing them for laughs will anger, or at least confuse, some.
But in defence of Underbelly NZ, its story is not (apart from flashforwards) that story. Land of the Long Green Cloud is a cannabis-dealing prequel to the main events in Australia and Britain, which have already been played out in Underbelly: A Tale of Two Cities, the second of the three (so far) Australian Underbellys to screen here.
So the puns advertise this new show's intent. In leavening the violence with a jokey script - not to mention, the hilarious 70s set design, costumes and the loony smile that never seems to leave Johnstone's face - the writers appeared to be aiming for affectionate nostalgia as much as balls-out crime drama.
There may be another reason for this. Much as American TV dramas live in the shadow of The Sopranos and The Wire, all New Zealand drama now lives in the shadow of that Newzild comedy-drama hit, Outrageous Fortune. And there is more than a little of the latter's playfulness and exuberance in LOTLGC.
There is also, perhaps unsurprisingly, a hell of a debt owed to the now well-established and successful formula of the Aussie Underbellys. The text-on-screen to announce characters and place, the gratuitous nudity, the flashbacks and flashforwards, the jump-cut editing, the pumped-up soundtrack... it's all been faithfully recreated from the Aussie template in this Kiwi version.
But if the Kiwis are simply copying the Aussies, the three principals are being played with real verve by Dan Musgrove (Johnstone), Thijs Morris (Maher) and Erroll Shand (Clark). Indeed Shand brings a real menace to his role that was missing from the Clark (played by the much-too-good-looking Matthew Newton) in A Tale of Two Cities.
Yet all three Australian Underbellys had a richness of character and breadth of story that made them compelling viewing for 13 episodes each. Whether LOTLGC, a six-parter that's dealing C-class dope in dreary old Auckland, can pull off the same remains to be seen - and it will be seen in my house. Marty "rhymes with party" has made sure of that.
- TimeOut