Luger Boa's Jimmy Christmas tells Scott Kara about being more comfortable in his writing and how life on K Rd inspired the band's new album.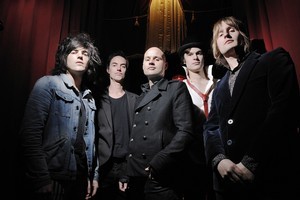 Jimmy Christmas has seen some sights on Karangahape Rd. For starters, when little Jimmy moved to the centre of the big smoke from the suburbs many years ago, he lived above a sex shop on the notorious Auckland strip.
"So I've spent a lot of time in a strange room up on K Rd," he laughs. "There was always that intrigue. You're not in the suburbs anymore."
It's K Rd and the people who frequent it that are the inspiration for his band Luger Boa's second album, New Hot Nights. It takes you on a rock 'n' roll night out on the boards of K Rd's many drinking holes and back alleys.
"There's just the mix of the darker side of life, and people struggling with their own demons, and [ordinary] people walking among that. It's a real melting pot of life. I see people on K Rd and wonder, 'how the hell did you get here from whence you came? What's going on?'. And I really love that about it."
There are also moments of madness and adventure on the album, like on the title track, when he coos like a greasy Jarvis Cocker that "the weekend is a creature and you know that it bites".
This rabble-rousing mood of many of the songs comes from what Christmas describes as "a big period of quite hedonistic behaviour" - and much of the music was written around this time.
And what brought this hedonism on? "I was just spending a lot of time in bars late at night - and all that sort of carry-on - and all the people who go along with with it I guess," he says coyly.
"But there is also a time when hedonistic behaviour is very rock 'n' roll, and sometimes I'm intrigued by necessity to the art, and its ability to destroy that which it creates, and how much you can hang on to that."
The band - Christmas, Sam Lockley (guitar), Simon Nichols (bass), Joe McElhinney (drums) and guitarist Johnny Lyon (with Ryan Thomas playing on the album) - are on a nationwide tour for New Hot Nights and play the Brownzy in Browns Bay tomorrow night and the Kings Arms on September 2.
While Luger Boa's 2009 debut Mutate Or Die - Christmas' first outing since the end of his former band, the D4, in 2006 - was almost experimental in approach, with its larger-than-life comic-book rock mood, New Hot Nights is just as diverse but more accomplished and self-assured.
Last track 400A is "an ode to an insane New Year's Eve that never ended"; FTK (short for F*** The Kids) is a brazen, fun tune ("It's done with affection," he assures); and there is a Britpop influence that comes through on the jaunty Asteroids & Satellites. Downtown is different again with hints of Kids of 88 dance rock to it, although he prefers to think of it more like "that New Order/Pet Shop Boys pulsing thing".
"I didn't want to make a record that was the same, or that was a rock record, and I'd like to think [songs like ] FTK turn the whole record on its head. That that's not what you thought was going to happen.
"It was really important Luger Boa wasn't something you could put your finger on and say, 'that's what it is'. And I think also it's a bit more comfortable in its own skin. It's a bit more honest. It's a bit more relaxed, and then it's twisted. Very twisted in places."
He says Mutate was a transitional album - "like it was trying to thrash around inside something to figure out what it was" - and because it was so intense and high energy it was a difficult listen at times. Whereas New Hot Nights is more appealing and immediate, which is reflective of the way Christmas wrote the songs.
"It's not an album that was written song by song, this is about, 'right, now I break out of life and I write a record'. And I love recording albums.
"I think something that I discovered about myself is that I write records. In the D4 we used to write song after song after song and then pick which ones would be on the record. But now I go, 'it's time to write the record'. And there are always discarded ideas, but generally what I find is I start in one place and keep going."
LOWDOWN
Who: Jimmy Christmas of Luger Boa
Where & when: Brownzy, Browns Bay, Aug 5; Kings Arms, Auckland, Sept 2; Kentish Hotel, Waiuku, Sept 3
Latest album: New Hot Nights, out now
Debut album: Mutate Or Die (2009)
- TimeOut