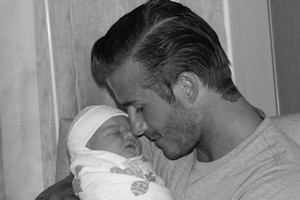 Victoria Beckham has posted a photo of her new daughter, Harper Seven Beckham, on Twitter.
The black and white photo - which shows Harper being held to the face of her father, David Beckham - was posted along with message "Daddy's little girl! X VB X".
The post is a surprising move for the celebrity couple, in an age where first-see photos are usually sold to magazines for large fees.
Harper Seven Beckham was born on July 10, and joins siblings Brooklyn (11), Romeo (8), and Cruz (5).
- Herald Online staff