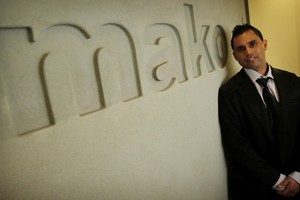 Maori Television wants more drama and reality television shows as it continues to grow its 100 per cent Te Reo digital channel.
The 3-year-old channel has a lower profile than its sibling bilingual channel, head of programming Eruera Morgan believes.
Internal Maori Television research suggests at least 66,000 reo Maori speakers aged 15 and over tune into the Te Reo channel every month.
However, most viewers are aged 35 and over with differing language skills.
Viewers needed Sky or Freeview satellite to access Te Reo - an "Achilles heel" to larger audiences, Mr Morgan said. But lack of awareness of the channel has also acted as a brake.
"We find people stumble across us. I kind of think it's the best-kept secret at the moment."
But there are real growth opportunities to target younger audiences - Mr Morgan wants production houses to pitch reality television ideas, and drama is part of a "five-year plan" for the channel.
"Kapa haka sells - there could be something leading up to Te Matatini [the national competition]. All the dramas, the competition, the love triangles, the love/hate scenarios, it certainly makes for a good reality series. We want something uniquely Maori. That's the challenge."
In the past year, 1000 hours of television across 200 programmes has been made. Iwi have produced much of the content, which largely concentrates on life stories, mythology and legends.
Te Reo also uses archival audio held by Radio New Zealand of 20th century Maori oratory, played to pictures from the Alexander Turnbull Library - a simple genre that allows classical Maori to live again.
Mr Morgan said film archives also turned up treasures.
"We found moving images of Rua Kenana [prophet and land activist]. For me it sends the hair on the back of your neck standing up. It's the closest we're ever going to get to them.
"That's what Te Reo does - it breathes new life into our korero, our traditions, our archives, our taonga."
The channel joined the Auckland War Memorial Museum in producing the 13-part Tamaki Paenga Hira, exploring stories behind taonga such as Hongi Hika's taiaha, which is held by the museum.
TE REO VERSION
Ko te hiahia a Whakaata Maori kia piki ano nga panui whakaaro, whakaata ao-tangata tuturu hoki, i a ia e whakatupu nei i tona hongere mamati e kia nei ko te reo.
E ai ki a Eruera Morgan, tumuaki mo nga hotaka, he iti iho te rongo o te ingoa o Te Reo tena i tona tuakana reo-rua.
E ai ki nga rangahau whakaroto o Whakaata Irirangi, neke atu i te 66,000 te hunga korero Maori, he neke atu i te 15 tau te pakeke, huri atu ai ki te mataki i te hongere Te Reo ia marama, ia marama. Otira, ko te nuinga o nga kaimataki kei runga ake i te 35 tau, me te rereke hoki o te matatau a-rongo o tena, o tena.
Me matua whai Sky, whai Freeview ao-rere te hunga mataki, e ahei ai ratou te mataki i Te Reo - he tika te korero, 'he iti wai kowhao e tahuri te waka', ina whaia nga kanohi me nga taringa a te marea, e ai ki a Eruera. Hei hoe whakapoturi tenei kore-mohio i te ahunga whakamua o te hongere.
"Ki ta matou titiro, he mea tupono noa te hongere e te tangata. Ki a au he rite ki te taonga whai painga iti i hunaia atu, kaore i kitea."
Me whakaata nga painga o te hongere ki nga kahui tamariki iho. E hiahia ana a Eruera kia waihanga nga kamupene hanga panui i etahi mahere mo nga panui ao-tangata tuturu me nga whakaari, hei wahi o tetahi "mahere mo nga tau e rima", mo te hongere.
"He taonga ka muia e te iwi tenei mea te kapa haka; he aha te he o tetahi panui hei nga marama i mua o Te Matatini (te tauwhainga a-motu). Kei tera ao te mahi a te whakaari, a te whakataetae, te whakawhaiaipo, te aroha me te mauahara, enei mea katoa, ka noho hei wahi o tetahi rangatu ao-tangata tuturu."
"Ko ta matou hiahia ia ko nga panui me nga whakaaro Maori taketake. Koira te whainga."
I te tau ka hipa ake nei, 1000 nga haora kua hangaia mo te hongere, i nga panui 200. Na nga iwi o te motu te tini o nga kai o roto i hanga, e hangai ana te nuinga ki nga haurongo tangata, ki nga putakenga o te ao, me nga purakau a nga tupuna.
Kua whawha hoki a Te Reo ki nga taonga korero e puritia ana e te reo Irirangi o Aotearoa, ki nga whaikorero o te rautau 20, ka whakatangihia i runga i nga pikitia mai i te Whare Pukapuka o Arekahanara Huripuru - he momo ngawari noa tenei ki te hanga, e ora pai ai te reo o te wa e tuturu Maori ana te tangata.
He taonga nui ano kei nga pataka whitiahua, e ai ki a Eruera.
"I kitea e matou etahi whitiahua kori o Rua Kenana. Ka rere te ihiihi, ka tau te wana, me pera taku korero. Kia kitea te ahua o enei kaumatua e ngangahu mai ana, kei whea mai.
"He pera ano te mahi a Te Reo, hei whakarauora ano i a tatou korero, i a tatou tutuku o nehe, i o tatou pataka korero, me a tatou taonga."
I mahi tahi ano hoki te hongere ki a Tamaki Paenga Hira (the Auckland War Memorial Museum) ki te waihanga i te rangatu Tamaki Paenga Hira (13 ona wahanga) e hura nei i nga korero mo nga taonga penei i te taiaha a Hongi Hika, e puritia nei e te whare taonga.