Australian It Girl and jack-of-all-trades Ruby Rose crosses the Tasman this weekend to guest DJ at one of our biggest dance events. She talks to Scott Kara.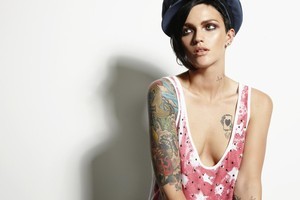 She's rather striking isn't she? Her name is Ruby Rose, and though she's not that well known here, she's big across the ditch for many things including being MTV Australia's top VJ, a dance party DJ, and a taste-maker in both the fashion and music stakes. Oh, and she's quite well known as a lesbian too, not to mention having her own radio show, clothing line and featuring on a number of other TV shows.
Not bad for a 25-year-old former model whose star only started to rise following the 2007 MTV VJ search. She got the job over thousands of others not only because she had the all-important looks and musical nous, but proving she had a cast-iron constitution after downing 100 shots of beer in 100 minutes as part of the "audition" process.
"But I never thought it would blow up to the level it has, where I'd be doing all these other things as well," says the laid-back Melbourne lass. "And I have no idea how it's worked out that way, but it's been a really crazy rollercoaster."
Rose is a jack-of-all-trades these days, and next week she brings her DJ skills - and hopefully some brand-spanking new tunes - to headline long-running dance music party Deep Hard N Funky at Ellerslie Racecourse, with more than 40 local and international acts.
Though these large-scale dance parties are past their heyday, they are still popular, with more than 6000 attending last year's event.
"In this day and age," says Rose, "we all work really hard and I think music is a big part of people's lives. When special events like this - rather than normal nights out at a club or a pub - come along there is a sense of occasion, or a one-night-only feel to it. It's like people want to celebrate how hard they work and the best way to do it is to dance."
Rose is almost pathological in her pursuit of finding new music to play to the masses, although mostly it's a case of not what you know but who you know.
"If you want to impress the audience you've got to be looking [for new songs] on a daily basis and the more friends you make in the industry the better, because if I want to play a record by [Melbourne-based house music producer] Grant Smillie before it hits radio or the charts you've got to know the people.
"But you've also got to have a great music collection - and then practise, which you only work out from making mistakes live on stage," she laughs.
When she's home with her dog Daisy she's not listening to party music.
"I still listen to Eminem because he's so angry that he makes me feel relaxed," she jokes. And then she'll put on anything from Sinead O'Connor and the BeeGees to Stan Walker and "I listened to Meatloaf the other day".
For someone who has always been into music it was a sad day when MTV cut back its music content in the late 2000s and replaced it with reality shows like The Hills.
But she says it all comes down to what viewers want from a TV channel.
"On a bigger global scale it's sad, but on a viewer level they tune in to watch The Hills, and they are the highest-rating programmes, more so than the music.
"And I guess MTV have done what artists like Madonna have done, they have had to reinvent themselves. These days people can jump on the internet and follow Rihanna and Foo Fighters on Twitter. And Gaga will go 'here's my latest clip', so there is no need to wait and see your favourite clip [played on TV]."
Diversifying has also helped Rose in the cut-throat world of television and show business. She says you've almost got to live by the mantra of what's here today could be gone tomorrow.
"That's always in the back of my mind so I keep learning, keep my knowledge up, and I guess I recreate and reinvent."
While she doesn't see herself as a taste-maker and style guru - "That would be cocky," she laughs - she does feel like she's in touch with what's going on. "I'm just very observant. I get to travel a lot, but I still do my everyday normal things and I feel fashion and style comes from being on the street, going to cafes, engaging with people - and that's where I get all my inspiration from. Because of that, my style is always adapting."
And there's even a touch of opshop Gaga about her style too. "I'm more likely to wear a giant knitted poncho that I got from a thrift store than to go into the latest high fashion store," she laughs.
LOWDOWN
Who: Ruby Rose, MTV host and VJ, party DJ, and jack-of-all-trades in the Australian entertainment industry
What: Deep Hard N Funky, Ellerslie Racecourse, July 2.
- TimeOut