Alan Perrott talks to photographer Olivia Taylor about travelling with New Zealand's premier orchestra to capture its momentous world tour.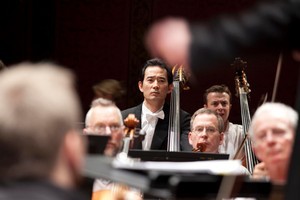 Olivia Taylor's seal of approval came with sneaky gesture from the double bassists.
It's a little thing they sneak into their performance, the scamps, and it helped transform what had begun as an onerous task into something very different, something thrilling - if utterly exhausting.
Taylor, a 24-year-old photographer, was coming to the end of a month of travelling with the New Zealand Symphony Orchestra. It wasn't just any old month - this was the most extensive tour the orchestra had undertaken in its 65-year existence, featuring 12 concerts, five countries, and thousands of kilometres of road-weariness.
The idea to record it for posterity had come from a chance meeting between former head of Massey University's school of Fine Arts, Professor Jeremy Diggle, and NZSO chief executive Peter Walls.
Taylor would handle the photography and subsequent exhibition (which opens in Wellington next month), while another crew shot a documentary.
It all sounded great. Apart from one tiny detail - the Fine Arts masters student knew exactly nothing about orchestral music and liked it even less. And the 94 musicians knew this.
It's just as well they hadn't peeked into her luggage. Taylor had filled any remaining space with DVDs to help liven up what she expected to be a fairly dry experience.
So, when she offered her first tentative "hello" to the group, she got a mixed response.
The message was clear: don't get in the way, don't embarrass us and definitely don't take pictures of anyone sleeping on the bus.
"I just had no idea what I was in for," she says, "except that it might be a bit boring. I never realised how fast-paced and intense it would turn out to be. We only had three or four days off the whole time, which was really tiring, but getting so close to an orchestra like that as it's performing in those incredibly elaborate concert halls, what an amazing experience. Mind-blowing really."
Still, it had taken a few baby steps until she felt part of the team. Especially given the cliques that naturally occur when 103 people travel on three buses. Her job became about avoiding the most sensitive toes and becoming instantly invisible when necessary.
At times, disappearing was voluntary, like when the games started on the bus. Most revolved around names, like coming up with a name starting with the last letter of the previous name, which sounds fine except that the high-brow types she was dealing came up with musicians, politicians or thinkers she'd never heard of. It was easier to sit quietly, laugh on cue, and think of new photographic ideas to make the constant rehearsals look different.
So there was no avoiding the lump in her throat when the bassists pointed their bows at her during a performance.
It's a subtle in-joke they pull during one particular piece. You would never notice it unless you are in the know.
It comes at the end of a pizzicato section, where the second row of bassists use their bows to pick out someone who's taken their eye. We can only assume it helps break the tension, as performing well-worn classical pieces in ornate venues bursting with equally ornate punters who are all too willing to express their views must be a nerve-wracking experience.
Taylor saw this first-hand at the orchestra's "test match", a sold-out performance in Vienna's Musikverein concert hall, Europe's "temple" of classical music.
The tension had built over several days as the mental strain of delivering 100 per cent performances took its toll. The closer they got to Vienna, the quieter everyone became. Even the nightly champagne sessions ended as everyone sought refuge in their rooms.
"I could really feel the tension," says Taylor. "At times I could tell they really didn't want me there with my camera." She was tense as well. This was a massive occasion, her worry was that they'd come away disappointed.
They triumphed.
The NZSO's Finnish music director, Pietari Inkinen, labelled the performance as "career defining" and the audience's reaction to his mix of classic and New Zealand compositions as rapturous.
An online Herald review by Simon Rees said "it was a triumph, and the audience responded accordingly ... For an encore Inkinen and orchestra had the audacity to play a Liszt waltz. You could have heard a pin drop as the NZSO three-stepped its way to a new maturity - and another resounding ovation."
Eight months later and orchestra chief executive Peter Walls still seems to be pinching himself.
"It was a case of proving ourselves in front of people who can see the most famous orchestras playing much the same repertoire any time they want, and they loved us. I think some of it is that our players aren't complacent. There are musicians there who know they are the best and they're playing there all the time. In contrast, I think we brought a sense of freshness and commitment that they really enjoyed, and that was reflected in the full houses and standing ovations. It was just an astonishing experience to be part of."
As for Taylor, the trip seems to have been ear-opening. She's attended two classical performances since returning and left the camera at home each time.
* Olivia Taylor's photographic exhibition, In Golden Halls, is at Massey University's Wellington campus from July 16-28. A documentary of the NZSO's tour is due to screen on Prime next month.