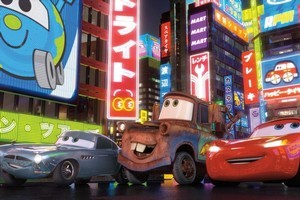 Cars 2 goes global in the sequel to the animated hit of 2006 which grossed more than US$461 million ($569 million) worldwide.
Racing car Lightning McQueen and his faithful tow-truck sidekick Mater leave Radiator Springs on an action-packed spy mission, encountering a whole set of new vehicles.
That includes an impressive British invasion of jalopies voiced by the likes of Michael Caine, Emily Mortimer and Eddie Izzard. And even the Queen of England makes an appearance, voiced by Vanessa Redgrave. Here's the director and some of the (voice) stars with their take on the sequel ...
John Lasseter
Director
"At Pixar, when we do sequels we like to do something really different. I always get frustrated when I go to see a sequel of a movie I love and they rehash the same story all over again. We've come up with a really great idea that's different.
It's a spy movie and I've always been a huge fan of that genre.
"I grew up in the 60s and Man from U.N.C.L.E. was my favourite television show. My five sons are all crazy about the Bourne movies and that was my inspiration for this one.
"As far as going international, I got the idea when we travelled around the world to promote the first Cars. I kept looking out the window thinking how much fun it would be take our characters to these countries. They have their own automotive heritage, the highways and the roads are different, and a different way of driving. I knew it would be fun."
Owen Wilson
Lightning McQueen
"When I first read the script, it sounded just like a completely new movie. It was going to be an international racing story, and I was excited to see how Pixar would show these cities and worlds. It was a bigger canvas for the animators to paint on and the friendship with Mater went to the next level. The first movie was more heartfelt but this is a funnier, bigger story. I think the sweetness of Mater's loyalty to McQueen in that he's this fish out of water who barely fits in, even in Radiator Springs, let alone Tokyo where he really stands out, made for a great backdrop. It's not a message movie but the theme is the importance of friendship and loyalty."
Larry the Cable Guy
Mater
"I love working on these movies and in this one, I had a much bigger part. There was some real funny and touching stuff in this movie. The spy element was so much fun. It was a blast. Cars 2 is not [just] like a spy film, it really is a spy film. The location is the whole world which makes it really exciting. Mater's first reaction to the world, after he'd never left his small town, reminded me of him. I grew up in a small town and knew exactly where he was coming from. I pulled experiences from the first time I left Nebraska."
Michael Caine
Finn McMissile
"I loved playing this British spy. And to get to play a car that I have from the 60s was one of the reasons I wanted to do it. I'm a 1966 pale blue Aston Martin which I think is very, very cool. I think it's absolutely marvellous. And I love my name, Finn McMissile. It makes me sound dangerous. I've got three grandchildren and because of this car I've really bonded with them. It was a wonderful opportunity for me. Cars 2 is a child's film if you're a child, and a grown-up film if you're a grown-up."
Eddie Izzard
Miles Axlerod
"I had to play it very straight. I was channelling someone like Richard Branson, someone who puts new ideas into making the world better, like environmentally friendly fuels. Unfortunately, I didn't get to go to all those countries. I recorded everything in L.A. and northern California, at Pixar. I loved that it's a very realistic portrayal of Tokyo, London, Paris - and it's so real in 3D. I love to drive around Europe and anyone who also likes that will love watching this movie.
"If you're doing all that winding driving, you could die, but you'd have a beautiful view at the same time. "
Joe Mantegna
Grem
"If you're working for Pixar [Cars is] the top of the ladder in animation. It's not like you ask, 'Well, who are some of the other cars?' And I know plenty about cars so I didn't need much backstory. I've also had a lot of experience in the world of animation because I've been Fat Tony in The Simpsons for 20 years. But it was nice to play a car as opposed to a fat Italian guy. To me, cars have really strong identities, not so much these days but especially back when I was growing up. That's what's fun about these characters."
Emily Mortimer
Holly Shiftwell
I got to take my little boy who's seven years old to Pixar. I can't believe my luck that this has happened at this time. He's been born and raised on Pixar films. We'd always shoved one on to keep him quiet, but then ended up sitting down and watching it with him. We've seen them all hundreds of times. When my son watched me in this movie, he said, 'Mum, you're amazing!'
"Being an animated character, the level of detail and precision which goes into their research is staggering. I met three or four people who'd been animating my car. They'd be looking at me weirdly, from across the room - obsessively studying me. It was definitely weird to see that my mouth and lips look exactly like it does on the car!"
* Cars 2 opens today.