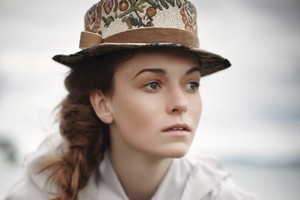 Amber Douglas, 19
She hails from Dunedin and, I'm told, is one of the quieter girls in the bitchy Top Model house. How quiet? Evidently she likes to channel a mute woman who travels to New Zealand in the 1850s for an arranged marriage to a wealthy landowner with her trusty piano, Anna Paquin and a phallic rope.
Amber's hobby is "making clothes" and she's studying fashion at Otago Polytech, which prompts the question: wasn't there enough plaid to whip up more crinoline underskirts on the Bernina to cover her lady bits?
Aminah Mohamed, 23
Aminah has ridiculously good bone structure and the obvious parallels to Iman and Naomi are clear, what with her dark complexion and receding hairline.
Born in Somalia with nine siblings, Aminah is the eldest aspiring mannequin on the show and is sure to play house mum. But with a degree in psychology, we're expecting big things in the super-snaky manipulative-behaviour department to keep her on top.
Asher-Jayne "AJ" Moore, 19
This Auckland beauty works at McDonalds but is evidently not sampling the French fries if this confrontational stare of haughty and hungry is anything to go by.
She was badly injured in a car crash a few years ago, but her bio says "this has not stopped her achieving her dream," which presumably is sitting bareback on a sleepy horse.
AJ will undoubtedly milk the sympathy vote, and why not. The industry loves a triumph-over-adversity story, especially when the tragedy could have very nearly made her - insert gasp - ugly!
If tear ducts weren't frozen by jabs of Botox to the face, we suspect we would witness feelings of real emotion by certain players in the industry.
Arihana Taiaroa, 19
I'm told Arihana has been dubbed "Queen of the Fairies" by the girls in the house because she is prone to daydreaming and hula-hooping.
This art-school student from Dunedin may wish for a whimsical world of Titania and Oberon, but she's clearly sniffing the scent of the kooky cougar, what with her eccentric ensemble that channels Candy Lane and a Catholic cardinal at a Celtic lake. Is she loopy or lovely? You decide.
Aroha Newby, 19
Aroha, from Gisborne, has big dreams: be a plus-sized model on the Victoria Secret catwalk and learn Maori. Whichever comes first.
This wahine has the veneer of a brooding big-girl bitch, which leads me to think she'd have no qualms in tackling guest judge Rachel Hunter for the title of Princess Plump of the series.
She looks competitive. She looks strong. She looks like she's got five weeks max as the resident bee-yaach before tokenism gives way to true Top Model talent.
Bianca Cutts-Karaman, 16
This Auckland teenager says if she doesn't make it in modelling, physics is calling. Seriously. Which, frankly, is so 1984 when Cindy Crawford went all "I'm-going-to-study-chemical-engineering-because-I'm-bright-AND-beautiful" but only managed three months at uni.
Cutts-Karaman describes herself as "kinda awkward", but the only thing she looks ill at ease with is this air pistol. And the splinters her peachy thighs have endured from perching on that crate.
Bianca is the brain-box of the house, but will she outwit and outplay the other girls? We're counting on it.
Briana Allen, 16
She has an adorable angelic face and cheekbones that look like they can cut glass, bringing to mind sauerkraut Diane Kruger, but don't think Briana's delicate demeanour counts her out of competition.
This girl could be fierce - like her idol Tyra. Briana is learning to become a swimming teacher, but we hope she doesn't jump into the deep end too soon. She says her friends describe her as "undercover hilarious, buzz, cute".
We're not sure what that means exactly, but we worry all this underwater paddling may have resulted in a lack of oxygen to the brain. Will she survive or is she destined for the shallow end of the pool where the cheap promo models frolic?
Brigette Thomas, 21
This Motueka waitress, who was bet $100 by her boss to enter Top Model, says her dream job is to be "retired". With that kind of work ethic, Brigette is bound to make an impression on the judges.
This self-described "laidback vegetarian" has more the air of the aloof starlet about her. Mind you, a cool, standoffish persona may be exactly the attributes needed to take home the top prize.
We smell a winner here. And a whiff of neurosis.
Hillary Cross, 17
Insiders say this Otago school student is the cool girl in the house. We're not convinced. She says she has a celebrity crush on Jack Black, but he his cool days are long gone, ever since Tropic Thunder played in theatres circa 2008.
With her thick Heidi plait mimicking the coiled rope entangled around her heels, we don't hold out much hope Hils will twirl the judges around her little finger and be crowned winner.
But what do we know? We thought Sara Tetro's wrinkle-free face meant she would look more at home at Madame Tussauds, and we were wrong.
Isabel Thorpe, 18
This girl has stars in her eyes. And I don't just mean the phoney dandruff dust that's been scattered all over the ground and over the pony prop and yet mysteriously missed her.
Issy hails from Upper Hutt and works at the local Cosmopolitan Club. She's set her eyes on being a television presenter on Four. Could modelling fast-track her on the route to youth TV stardom? Probably.
She's said to be the house clown with a bellowing voice that carries too far. Sounds like she could be the next Helena McAlpine.
Rosanagh Wypych, 17
Blessed with an incredible face and a pout to launch a thousand sulks, this Polish beauty with the unpronounceable name is said to be able to cut fellow contestants down with a withering caustic comment.
She's bound to give Aroha fierce competition in the brooding bitch department. Hailing from Napier, Rosanagh is said to have an obsession with resident sexpot judge Chris Sisarich.
She calls it a "crush", which, we think, still sounds a tad too Fatal Attraction for our liking. But it's bound to be brilliant telly.
Accountancy is Rosanagh's Plan B should modelling prove a flop. Aspiring bean-counters and ageing auditors will be praying she falls on her face, in a good way.
Tyne Aitken, 17
This Arrowtown teenager seems irked about something, and not just the fact her first name is Tyne. Perhaps it's that she's an accomplished gymnast, pianist and guitar player too.
"How", she looks to be musing, "can the other girls possibly compete with moi?" Hoity-toity only-child Tyne is given to highfalutin' talk - she in her bio that the mark of a good model is to "know thyself.
She also fancies being Elle Macpherson when she grows up because "she's a MILF". Whoever said Top Model doesn't produce acronyms to aspire to?
Yanna Hampe, 16
Yanna deserves big ups already. She cunningly befriended the loudmouth of the house, Issy, in the first week and insiders say the two are now inseparable.
Modelling is a bitch-eat-bitch world, so alliances are clever. This Auckland teenager works as a part-time cleaner for Kea Campervans but doesn't see domestic work on her horizon.
She dreams of visiting space and the Namibia desert and says radio broadcasting is calling if she doesn't cut it in modelling.
-Herald On Sunday / View