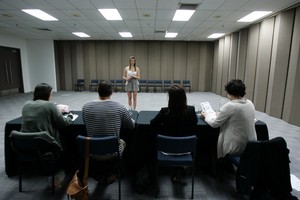 First there was 2009's doe-eyed blonde, Cristobelle. And supposedly "curvy" Ruby, who went on to receive the bigger profile. And Laura, the snarky runner-up who now dominates runways and editorial photo shoots.
Then there was Danielle don't-mess-with-me Hayes. And the endearing red-head Jenkins twins from Dunedin. And the foot-in-mouth afflicted Dakota, who claimed to have narrowly escaped a career in adult entertainment and who, while dining in Thailand, famously told young Lara she had a big butt.
Top Model may not be the most cerebrally enlightening show on New Zealand television, but it certainly never fails to dish up a hefty dose of catty escapism.
If early reports in weekend tabloids are anything to go by, this third season, or cycle, as they like to say in the Top Model franchise, should deliver teenaged rivalry in spades.
There's a lot at stake.
Although TV3 has not yet revealed the details of the prize, audiences can assume, based on the previous two seasons, that it will involve international contact meetings, a cover shoot, and possibly some sort of beauty-industry product endorsement.
Last year's winner, Danielle, truly fitted the show's intention to be a nationwide search. The Kawerau resident entered as a dare, having never walked in high heels before nor ever having watched an episode of the show. Little did she know she had a "unique" look that the excitable judges predicted would make pots of cash internationally.
Much coaxing, a makeover, and a collection of impressive photoshoots later, Danielle had become a model. She knew she had what it took to win the competition, and win she did.
Since taking the title, Danielle has graced editorial pages, strutted down catwalks and readied her portfolio for the international stage.
This year, judges Chris Sisarich, Colin Mathura-Jeffree and Sara Tetro are seeking another could-be Hayes.
They have scoured the country for potential candidates, decided on 100 hopefuls, and whittled them down to an initial pool of 33 finalists.
In this week's first episode of the third season, Hayes will visit the fresh intake to share her experience and wish them luck as they embark on their first challenge in the balmy Bay of Islands.
LOWDOWN
When: Friday, 7.30pm
Where: TV3
What: Catwalks and claws
- TimeOut